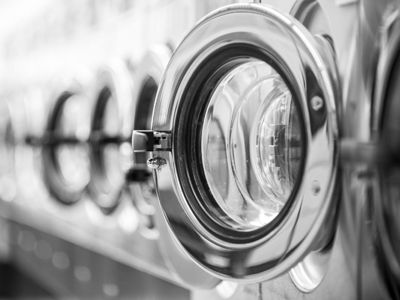 For laundry investors currently looking into enter the industry these are incredibly challenging times. While on one hand the opportunities for success are far greater than ever before. Professionally operating laundries are thriving, and the industries manufacturers are delivering a better and more efficient machine than we imagined would be possible so soon. Most
of today's washers use ½ and less water as they did just 10 years ago and made to offer a higher rate of longevity than even just a few years ago. Most all equipment from our major manufacturers now include programming and marketing options, and some are offering touch screens and factory app-pay pay systems that still include the simplicity of the quarter vend option, but
also phone app pay systems. There are also and third party pay systems that can be installed on almost any machine.

Professional laundry investors are also increasing performance significantly when they present a more attractive and comfortable, community friendly environment to their customers and then market their brand on social media. These investors are successfully growing their businesses, and rapidly, and beyond the normal expectations. Today it is common to see 15% to as much as 25% improvements over pre pandemic revenues and more when adding staff hours, services, and ancillaries. These successes are a direct response to the improvements that many laundry owners have made and by responding better to safety and cleanliness and comfort concerns. The more laundries that get serious with ancillaries and especially the Fluff & Fold business can increase vend rates and increase the customer base, thus allowing them to better afford to staff their laundries. There are also many laundries now offering Pick up & delivery service and, in many cases, having huge results.
Yet, while the industry is becoming more attractive to investors, there are also greater challenges associated with the acquisition and obtaining laundry friendly lease terms. Most laundries are well off model performance and are in a state of excessive deferred maintenance by the time they come to market. There are too many issues overlooked during diligence. Lease rates are also rising, and landlords are having greater difficulty in agreeing to long-term leases and multiple options, with assurances of future rental rates.

Equipment costs are also up by 15 - 20% from pre-pandemic times, and interest rates are climbing. All utility costs are also rising at rapid rates and especially water is becoming increasingly expensive. These costs are intimidating, considering that most laundries sold in resale have equipment that will need replacing in the following five - seven years just to sustain business
and protect their exit strategy may leave the would-be investor quite weary. But on the other hand, by taking the correct steps, the investor will increase revenues and expanded customer base. If a well-developed plan and the right equipment mix with strong vend rates and a community friendly operation is in place, then you may expect to have amazing results.

It is a fact that new models that address the needs of the community and offer better customer service along with clean, safe and consistency of operations are bringing a larger percentage of the population and from a larger ring of influence into their laundromat. Frankly, the laundry customer base to now has been bleak; about 10-12%. What we are seeing now is a reminder of the great Baseball movie, "Field of Dreams" claim that says: "Build it and They will Come." It is just so true. It is important if one is to achieve the promised long-term sustainability with the more rewarding success of today's laundry investors, that they do follow through to plan and build and then operate their laundry with models and procedures that address overcoming higher vending rates and promote ancillaries and services.

A far greater Laundry-specific due-diligence is crucial today. It is also important to develop a model and an overall strategic plan to address the flaws in the current model and operations. The discovery process of a laundromat is extremely thorough, yet only a small percentage of buyers fully address the issues, and the result is often demonstrated by a weak exit strategy and failed dreams. This is the condition of much of the current inventory of laundries on the market.

Today, many laundry businesses which are acquired will need to be restructured if it is to be a secure investment with sustainable revenues and a solid exit strategy. The difference today is that by doing so and done well, the rewards are far greater than ever before.