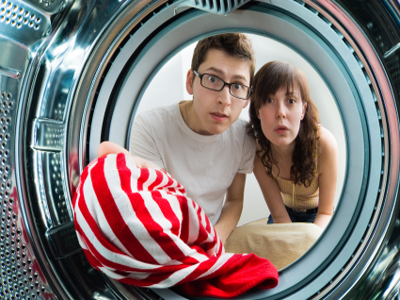 Laundromats and coin operated laundromats are popular choices among business buyers as they often have minimal payroll expenses and can be successfully run as an absentee run business.

Additionally, Laundromats usually have predictable sales and cash flow making it an easy business to run.

With a popular business model, you need to be strategic about when you sell your laundromat so you don't get taken to the cleaners by a buyer and so that you maximize your profits.

When To Sell
Deciding to sell your Laundromat at the right time is critical in getting the upper hand in the sales process. Ideally, you want to sell your business when sales are steady and your equipment is in good shape. The condition of a Laundromats' equipment is the biggest factor in the due diligence process of selling this type of business.
If a potential buyer sees that the equipment is old, needs repairs and will likely need to be replaced, they may walk away from the opportunity or present you with a low offer to compensate for the investment they will need to make. On top of that, if your equipment is getting worn down it may not be operating as best as it could and this could turn customers away causing your sales to dip. Bottom line; sell your Laundromat when the equipment is still in good shape.
If you aren't sure what the life of your equipment is, here are some benchmarks for you to consider:
Machines:

Topload Washers (12 lbs. to 14 lbs.) - Life Span 5-8 years
Frontload Washers (18 lbs. to 50 lbs.) - Life Span 10-15 years
Dryers (30 lbs. to 60 lbs.) - Life Span 15-20 years
Heating Systems:
Life Span 10-15 years
Coin Changers:

Life Span 10-15 years
Work With A Broker Or Laundry Consultant / Advisor
Just because your business is popular with buyers doesn't mean you should try to go through this process on your own. While it may seem like the right thing to do to maximize your profits by not having to share them a broker, the opposite is true. While you will have to give a broker a portion of the sale price for their service, brokers have the ability to help you position your business properly in the business for sale market and to connect you with qualified potential buyers. Trying to do all of this on your own would take much longer than if you enlisted the help of a professional business broker.

Issues To Be Prepared To Discuss
During the sales process you need to be prepared to handle objections and concerns from potential buyers that are critically evaluating your business. One thing that is guaranteed to come up is the crime rate in the area your business is in. If you're in a suburban area this probably won't be a huge concern but if your Laundromat is in a more urban area a potential buyer is going to want to know what the crime statistics are so they can understand what their risks are.
Going back to your equipment, be prepared to answer a lot of questions here. Buyers are going to want to know who has maintained it and when things were last replaced. If you have documentation of services and parts replaced, be prepared to present those to the potential buyer.
Last but not least, be prepared to discuss your utility bills. As you know, water consumption is a big part of this business and an educated buyer is going to want to know exactly what he/she is facing in terms of a water bill. Also, be aware of any new construction projects going on in your area and any new Laundromats opening. Buyers will want to know of potential growth opportunities and new competition.
The General Rules For Establishing A Price
Depending upon the market or location of the Laundromat, pricing can actually range between 1 and 1.5 times gross annual sales. To start, determine the age and condition of your equipment. This is the most difficult evaluation to make. Inspect the water heating systems, as this is many times the most expensive single component to replace. These two observations will go a far way in determining a laundry asking price, or variance from the standard of 100% of gross revenue as an asking price.

Another great metric is determining water usage. Quite often water companies will sell water in HCF or Hundred Cubic Feet Units. 7.48 gallons of water which is equal to one cubic foot of water, so 748 gallons of water equals a Hundred Cubic Feet. A standard top loader uses 30 gallons of water, and the 30 and 50 pound units are multiples of the top loader. The dryer revenue should equal at least half of the washer revenue, up to 100% of the washer revenue.
What Buyers Are On The Look Out For
Industry-wide there seems to be a reluctance to replace equipment near to or at the end of the life cycle. As a result many owners decide to sell rather than improve. The buyer then faces the realization that within a short time frame an investment in equipment will be necessary. To position yourself a prime opportunity, don't fall into this category. Instead do as I recommended and sell your business when your equipment is in good shape and still has several years in its life expectancy.
More Info And Resources On Buying Or Selling A California Laundromat:
All California Laundries For Sale & Wanted To Buy Requests:

https://www.bizben.com/business-for-sale/coin-laundry-laundromats-businesses-for-sale-type-california-ca.php
All Business Brokers & Agents Who Assist With Buying And Selling Laundromats:

https://www.bizben.com/business-brokers/coin-laundry-laundromats-businesses-business-brokers.php
Laundry Resources To Asssist You With Consulting, Financing, Due Diligence:

https://www.bizben.com/business-resources/coin-laundry-laundromats-businesses-resources-california-ca.php
More Articles & Blog Posts Regarding Buying And Selling A Laundry:

https://www.bizben.com/blog/coin-laundry-laundromats-businesses-blog-posts.php

One last thing . . .

Keep in touch - let me know if you need any assistance with either buying, searching for, or sell a California laundry - I will point you in the right direction.