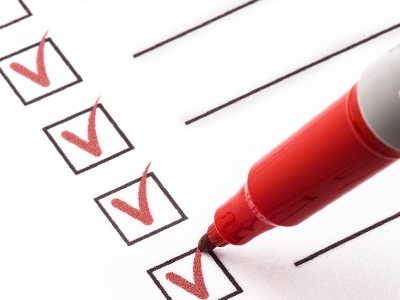 Overall only 30% of all small businesses for sale throughout that are put on the market (either formally through business for sale advertising postings or informally by "getting the word out") are actually sold! A surprising statistic to most small business owners, agents, and certified business brokers trying to sell a small to mid-sized business!

Consulting with owner/sellers, brokers, agents, and intermediaries throughout on a daily basis I see these individuals not following the most of the advice below and usually they are the ones ending up not selling their businesses and being part of that 30% (not successful) statistic listed above. If however you follow the steps and tips below (and follow the BizBen Protocol of selling a small business) your chances of selling dramatically increases to 95%+!

Have All Pertinent Records & Important Information Ready Before You Go To Market!

Have these items ready before the business goes on the market to be sold: The last 3 years of federal tax returns for the business being sold, the last 3 years of financials (profit & loss statement, balance sheet), the last 3 years of monthly bank statements, copy of current lease, list of all equipment being sold with the business, etc - many parties during the selling process will need this info - serious business buyers, your landlord for a new lease for the new buyer, lenders (for a possible loan/financing for the buyer, note buyback firm (in case you want to sell the note for cash after the business sells). Also make sure you know what the correct annual adjusted net income (cash flow, SDC) has been for the last 3 years. Serious business buyers will want to know this information early in the buying process and how you derived it from your tax returns and financials.

Have A Professional Third Party Business Valuation Performed & Understand The Results

Getting a 3rd party professional business appraisal/valuation (based on previous tax returns, financials, business assets, projections, and other factors) is important and critical for the selling (and buying) process. 70% of all small businesses NEVER SELL usually due to too high of asking price (and/or a purposed bad deal structure) placed on the business being sold. Getting a professional 3rd party valuation is well worth the expense (usually between $900 and $3,500) and will be utilized by many parties during the selling process: possible business buyers, lender/financing companies for the buyer, and other advisors/parties to the transaction. Also helpful for this process is the internal BizBen.com informational database of "comps" of pre and post sales of small business sales by industry, geographic area, and business size (in financial terms).

Have Your "Team" Of Advisors Ready - Transactional Attorney, CPA/Accountant, Escrow, Financing

An important part of being ready to sell a small business is to have advisors you can trust and count on when the business purchase offers start coming in (remember to get back up offers!). This is not the time to have your advisors going on vacation or being to busy not able to attend to your deal. Make sure you have professional advisors lined up for the duration of your deal.

Keep A Folder/Database Of All Info/Contacts (Potential Business Buyers), Deal History

Keep a folder (or online database) of all contacts, notes, and paperwork for your small business for sale transaction. Keep a log of all buyers who contact you - get their cell phone numbers, email address and keep notes about them (this will come in handy down the line, trust me). You want to make sure you have backup buyers (very important strategy) in case your first choice (or others) drops out during the selling process. Keep all escrow info, purchase agreements, signed non-disclosure/confidentiality forms, contact phones of CPA's, Attorneys, etc. and other pertinent data/info in this folder for future reference for selling, and in the future (potential lawsuit, taxes, etc.)!

Write Up A Comprehensive Summary (Business Profile) Of Your Business

Buyers are going to need to know many details about the business being sold. Instead of having to re-explain to many buyers about the business (and probably forgetting many important facts) make a one page summary of the business being sold. Include: History of the business, date established, number of employees, important attributes about the business and surrounding area, what you would recommend to a new buyer to increase business once they take over, what geographic area the business covers, the competition, the reason for selling, how much training will be provided after the sale, etc.

Confidentiality Agreements (Non Disclosure Agreements) Are Important

Have all potential business buyers sign and date a Non-Disclosure/Confidentiality Agreement before giving out any info. Make sure potential buyers understand how important it is to keep the sale of the business confidential and that there are legal ramifications if they don't.

Get Controlled Maximum Exposure (Confidentially) On The Sale Of The Business

One of the most important items is to make sure that many, many buyers (ones that are qualified to buy) see the business is for sale. Expect to spend $400-$1000 for advertising and marketing (BizBen has multiple advertising programs for sellers and intermediaries) to sell your business to adequately get the word out confidentially to the right business buyers. Yes it does only take one buyer to buy a business, but you want to make sure you have multiple business buyers (and backups if possible) ready to go!

Get The Business You Are Selling Pre-Qualified For Business Purchase Financing

You are probably saying "that is the buyers responsibility to do this!" You couldn't be more wrong. This is a critical step in insuring that possible buyers can get SBA loan (or non-SBA loan) financing in the first place to buy the business. This is highly important, since if a buyer can't get financing from a lending institution that means the owner will have to take back a note, or sell the note after it sells for a discount etc. By doing this step early you will know what some very important options will be for potential business buyers without a lot of time being wasted - and TIME KILLS DEALS!

Keep The Negotiating & Communications Moving Forward

Remember - TIME KILLS DEALS. Make sure when you are negotiating the contract, allocation of purchase price, new or restructured lease, etc. always be moving forward. Don't let any situation sit too long - it will most likely kill the deal!

Get The Signed Purchase Agreement Into Escrow

Get the signed purchase agreement into escrow immediately and sign off any contingencies quickly - remember TIME KILLS DEALS. Make sure you go through the Allocation of Purchase Price in the beginning of the escrow process not at the end which happens most of the time. Make sure you select a reputable Escrow/Bulk Sale service to assist - not getting this right can be very expensive and could blow up your deal.

Due Diligence By The Buyer Should Not Last Forever

Due diligence by the buyer of your business should only last up to two weeks. Since you are going to be organized and ready with all important info and documents, this is all the time any competent business buyer (and CPA for the buyer) should need to investigate the business for sale. You do not want the business off the market for a prolonged period so be firm about the length of time for due diligence - get it in writing (purchase agreement) and make sure all parties to the transaction stay with the schedule (if they the current buyers doesn't perform within schedule - go to your back-up buyers)!

The Business Is Not Sold Until You Have Check In Hand

Always continue to collect names of business buyers, cellular/text numbers, email information even if you are in escrow (50% of all deals fall out for one reason or another). You want to make sure you have a successful deal and a business buyer that is going to complete the deal. Try to have multiple potential business buyer back-ups who are willing to take the buyers place within the escrow should the current business buyer drop out (or takes too long in the deal process).

Keep A Positive Attitude - It Will Happen!

Keep calm and a have a positive attitude. By following these steps (and utilizing these strategies from the BizBen Protocol of selling a small business) you will definitely find a qualified buyer to purchase your business! Things happen pretty quickly when selling a small business. If you are prepared, follow through with all business buyers professionally and keep up to date on the selling process, you will be successful in the long term for doing so!

About the Author: Peter Siegel, MBA is the Founder & Lead Advisor at BizBen.com (established over 25 years - 8,000+ small businesses for sale & wanted to buy postings - with 500 new & refreshed posts daily). BizBen.com offers business buyers, owner sellers, business brokers and advisors free access to online postings, articles, blog posts, discussions, podcast, resource and broker directories, etc. Peter heads up the BizBen.com ProBuy, ProSell, & ProIntermediary Programs. Peter Siegel, MBA can be reached direct at 925-785-3118 for advice, referrals, or questions.