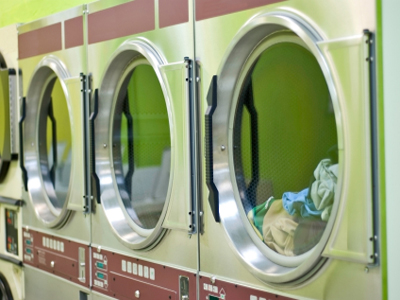 Coin Laundry -- commercial self service laundry equipment placed into service in a retail shopping center. Most coin laundries for sale are owned by individual operators that lease space from property owners on long term leases (10 -25 yrs) or property owners that operate their own laundry business. The business is unique in its operation in that the majority of the work is done by the equipment.

Most other businesses require inventory, accounts receivables, and employees that can be very difficult to manage. Newer laundries may have Card Operated equipment that has very unique Marketing and Operational advantages.

The coin laundry industry is nearly 50 years old and most laundries are operated by individual owners. There are some franchise businesses across the nation but most are individually owned.

Clean laundry is considered a necessity of life and good health and just as important as food and shelter. The coin laundry industry has been able to capitalize on this necessity and has been able to thrive during periods of growth and recession. The business has been very successful in high renter occupied densely populated areas but there have been numerous examples of this business being successful in any area with an imaginative marketing approach. People always need to wash their clothes!!

Coin Laundry Value

Coin laundries normally sell for a multiple of their net earnings. The multiple may vary between three and seven times the annual net cash flow, depending on several valuation factors. The following primary factors establish market value:

- The terms and conditions of the lease. The amount of time on the lease factored with the increases in rent amount. Most operators and industry experts will look for the total rent amount to be no more than 25% of the overall gross income. Other factors to consider would be the location of the property, entrances and exits, visibility, and parking.

- The net earnings before debt service, after adjustments for depreciation, and any other non-standard items including owner salary, or payroll costs in services.

- The age and condition of the equipment. The age of the equipment is often overlooked in the valuation of a coin laundry. This should be a strong consideration in business value. If the existing equipment is at the end of its life and needs to be replaced then cost of the replacement should be factored into the valuation.

- Competition. It is vital to research the competition in the area. Are any of the existing competitors attempting to remodel or expand? Are there any new coin laundries being built in the area?

Finding the Right Coin Laundry for You!

It is extremely important that all potential investors conduct a precise evaluation of the laundry business they are looking to purchase. There are many different industry experts available that will help in correctly evaluating the business. Most existing laundry owners do not keep great financial records that are reflective of the true income of the business so a more thorough investigation of utility records and collections is necessary.

Just as important as correctly evaluating the business is a thorough self evaluation to determine the feasibility of operating a coin laundry business. Does this business work for me geographically and financially?

The following shows a list of factors to consider before purchasing a coin laundry business:

Financial -- How much of my own cash and assets am I willing to risk to purchase this business? Is the business going to provide the cash flow required to maintain operation and payback my investment in enough time to make it worthwhile? It is not recommended to try to borrow all the money necessary to purchase the business. If you can part with 50% of the cash required to purchase the business then it should be a safe investment assuming that all the correct evaluation factors of the business have been investigated. Some opportunities may be available that would warrant borrowing most of the money required to purchase the business.

Location -- How far am I willing to travel to effectively operate my business or will I be able to have a manager that will operate the business if I cannot travel that distance? If you plan on managing your own store including emergency calls and collections and only hiring employees for cleaning than it is recommended that you be within 30 minutes of your location.

Opportunity -- Is it possible to purchase this business and improve the operation and the income? You will be purchasing a business based on the value of its current operating condition. Most older laundries have great potential for improvement by remodeling and replacing equipment. Most laundries do not have an effective marketing strategy in place. These factors can be a tremendous opportunity for business improvement, income increase, and quick increase in business value. The return on investment can be tremendous with the correct business approach and marketing strategy.

Remember that clean laundry is a necessity of life. The coin laundry business has been able to capitalize on this necessity. The coin laundry business is all cash, and one of the safest and easiest businesses to operate in the nation. There are many tools and experts at your disposal to correctly evaluate this business for value and for yourself.
Categories: BizBen Blog Contributor, Buying A Business, How To Buy A Business
Contributor:

Areas Served:
Southern Caliornia
Phone: 800-465-8300, 310-223-2240 X209
Providencia Properties Inc in association with Golden State Laundry Systems is a full service Coin Laundry Real Estate Broker. At GSLS you will receive personalized attention from our professional staff of coin laundry experts. To sell or buy a Southern CA laundromat call Mike at 310-223-2240 X209.