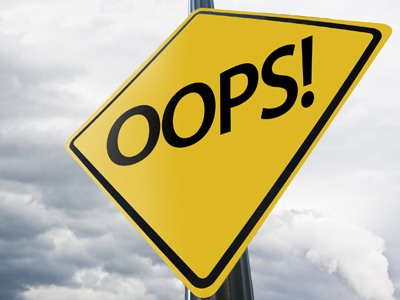 Recently a potential business buyer in our ProBuy Program (BizBen) searching to buy a small to mid-sized business asked me to sum up what I though the biggest mistakes business buyers make when they searched and bought small to mid-sized businesses.

I have my extensive list of what I consider deal-stopper mistakes and share them daily with ProBuy (Business Buyer Program) consulting clients but I thought I'd also I ask numerous BizBen ProIntermediaries & Advisors regarding their thoughts on this matter and received a diverse and comprehensive response.

First My Thoughts & Responses To What Every Potential Business Buyer Must Do To Be Successful:
- Identify They Types, Categories, And Locations You Want To Buy A Business
- Complete A Business Buyer Profile & Personal Financial Statement To Return With All NDA's/Confidentiality Agreements
- Get Pre-Qualified Professionally For Business Purchase Financing Options: SBA, Non SBA, Bridge Financing, etc.
- Post A Business Wanted Posting On BizBen To Reach The 60% Hidden Market Of Business Sellers
- Sign Up For Email & Text Alerts Of New & Refreshed Postings On The Market That Match Your Search Criteria
- Have Your Team Of Advisors Ready To Go: Transactional Attorney, Escrow/Bulk Sale Service, Financing Advisor, etc
- Search Daily - Set Up "Saved Searches" On BizBen To Make This Process Easier (Don't Forget The Instant Email/Text Alerts)
- Get Your Business Buyer Profile & Personal Financial Statement Out To Many Brokers, Agents, Advisors Weekly
- If You Like A Business - Act Quick - Produce An Non Binding LOI To Lock Out Other Potential Business Buyers
- Always Make Back-Up Offers On Any Businesses You Like That Are In Escrow Or Contract - 50% Of All Deals Fall Out!
- Have A Trusted Advisor You Can Review Potential Deals With (Phase 1 Due Diligence), So You Don't Waste Time Or Money
- Be Careful Of Utilizing A Non-Trained CPA For An Accurate Small Business Valuation - Seek A Professional Business Appraiser

Feedback, Opinions, And Tips I Received From BizBen ProIntermediaries On This Topic Below:

"As with seasons, the mistakes buyers make change with the economic climate. Two years ago, the biggest mistake buyers made was waiting too long to purchase a great business. Often they would procrastinate on solid business only to have someone else jump on the opportunity.

Today, the climate has changed as has the buyer's mistakes. First, buyers are so fearful of the current economic climate they fail to see the bargain prices of most businesses. 2 years ago solid businesses with historical proven cash flow were retrieving prices of 3 times cash flow. Those same businesses aren't getting 2 times cash flow today. A smart buyer knows these businesses are bargains and knows the economy will turn and the price multiples and income levels will return to past amounts.

Second mistake is going into deal thinking the landlord is going to reduce the rent on a profitable business. The landlord has ZERO incentive to reduce the rent when a business is making money, regardless of whether rents have declined in the area. The buyer must enter the deal expecting to pay the current rent amount. Oh, go ahead and try, but don't expect a decrease.

Finally, another mistake buyers are doing is thinking they can negotiate large discounts off prices that are already discounted or worse yet thinking the seller is going to carry a large percentage of the deal. Perhaps this happens, but it is rare. And the buyer misses-out on a great business as a result."

--------------------------------

"Buyers focus on cash flow, as they should, but they need to make sure there are no hidden issues that the Seller may not even be aware of such as potential zoning changes or code changes that would make operating the business from its current location a problem. In addition the Buyer must be as thorough as possible in doing their Due Diligence to make sure that the working capital requirements for operating the business are completely understood prior to any transfer of ownership so that upon transfer the business can continue to operate smoothly. Understanding the relationships, terms and histories of suppliers is another very important part of the Due Diligence process.."

--------------------------------

"My specialty is in the Coin Laundry industry. In our business (and many others) , it is the lease that must be placed at the highest level of importance and often time, Buyers place too little emphasis on it.

If you are purchasing a business that is easy to move then it might be critical but in the laundry nearly 1/2 of the physical value of the business is a permanent part of the lease hold. Buyers need to look carefully at the lease terms. How many years are left? What are the conditions of the option? What are the increases like? How long ago was the property last sold? Be certain that you carefully examine all attachments, train of Amendments, Addendums and Assignments.

It doesn't hurt to gain an understanding of the current ownership. NNN and CAM costs vary a great deal now. Some are quite reasonable but in some cases, where there was a boom era sale, the taxes can be very high.

Do not rely on only the review of your attorney (although, highly recommended) but also a knowledgeable Commercial Broker or area Commercial Real Estate Specialist to give you an opinion of the lease and trends in the area."

--------------------------------

1. Buyers don't prepare a pro-forma before they buy a business. A pro-forma is like a budget, it tells you what you should expect before it happens. I see buyers just wing it or go by their gut based on previous experience. But they do not commit to a realistic structured financial pro-forma of sales and expenses for the location they are considering. By thinking through the sales and expenses, they are less likely to either pay too much, invest too much, or commit to too high a rent.

2. Buyers don't think about the value they are creating if they have to sell. If they buy on an asset basis and then spend money on a renovation, and have to sell, they often are surprised that they can't get their money out. Even if they are successful and make a profit, keep in mind that restaurants sell for 2-0 to 2-5 times cash flow. That is why a pro-forma is so important. It also guides you as to how much to invest if you want to get your money back in a short period of time if you have to sell.

3. Most buyers underestimate the cost of renovations. Plan on 50% more than you think is needed.

4. Some buyers get into business for the wrong reason. All they think about is their profit and how much money they will make. They don't think about the customer and ask themselves if their product and service is really needed and if they are going to add anything to the community they are serving. If all they care about is profit, sometimes the stress of making a profit drives them out of business before they can get established. If you love what you are doing and are truly creating something worth while then eventually you will make a profit and be successful. Making your customer happy should be your priority not just making a profit. Think long term and don't be undercapitalized.

--------------------------------

There are many steps involved in purchasing a business. Perhaps the biggest mistake that a Buyer makes when buying a business is inadequate preparation.

One aspect of preparation is understanding the type of business that the Buyer is interested in. This is a process that will entail doing some research on the industry through such sources as books, Internet articles and communicating with people who are all ready in the field.

Once a Buyer has identified a particular business an important next step will involve an analysis of the income and expense statements. This is where most people fail. A Buyer needs to understand the numbers. They need to look at the history, the present and future prospects for the business. It is advisable that Buyers consult with professionals who understand the business and who can interpret the data. The list of contacts should include accountants, people who own similar business and business sales professionals with expertise in the field.

I have seen many business owners who did not do their homework prior to purchasing their business and have found themselves in a quagmire. All of these business owners have great hindsight but their predicament could have been avoided with a little foresight.

--------------------------------

The biggest mistake business buyers make is not to negotiate with sellers. Over the 23 years I sold businesses I saw a substantial number of buyers who liked the business I showed them but said the price was too high and walked away. I explained to them that I never know how a seller will react to a lower offer. I have had sellers that said the price was firm and then reduce the price substantially. Those buyers that made a lower offer and negotiated in a sincere and friendly manner got the business and at a below listing price. If a seller likes the potential buyer the price will go down.

Another factor that buyers should remember is that listing prices are generally on the high side of the business value. It is the job of the Business Broker to get the highest price possible for his client. Both Broker and buyer expect a buyer to negotiate.

The second biggest is not demanding to see three years of financial statements and two years of tax returns. A number of business broker tell a buyer to make an offer and then they can see these documents. How can a buyer make any kind of a sincere offer with no information.

--------------------------------

1. Not having a complete financing package buyers with the help of their business broker need to put together a bullet proof package for the various lending institutions that consist of the following:

* A comprehensive business plan for the business they are proposing to buy and describe how they are going to manage the business in such a way as to insure its profitability and growth.

* A detailed resume with emphasis on their knowledge of the business they are proposing to buy.

* A detailed financial statement showing proof of liquid funds for both the down payment and sufficient operating capital.

* A recent (within a week) credit report with FICO scores

* Copies of last 3 years of personal tax returns.

* Letters of recommendation that will help prove their ability to manage the business they are proposing to buy.

2. Not having a complete documentation package on the proposed purchase

* A copy of the Purchase Agreement and any Counteroffers

* A copy of Buyer/Seller Disclosures

* A copy of the Non-Compete and Training Agreement from the seller

The broker prepared Comprehensive Business Review (CBR):

* Business Profile

* Literature/Marketing Information on the company's products or services

* Executive Summary

Financials on the company:

* YTD Balance Sheet and Profit & Loss Statement

* Accounts Receivable Aging Report that Matches YTD Balance Sheet

* List of Assets with Liquidation Value that Matches FF&E Listed on Balance Sheet

* Asset Schedule Allocation

* Debt Schedule

* Copies of Last Three Years Profit & Loss Statements

* Copies of Last Three Years Balance Sheets

* Copies of Last Three Years Fed Tax Return, Including all Schedules

* Organization Chart

* Payroll Detail, Including Tenure

3. Not having the lease finalized.

4. Not having a competent business broker to help you prepare all of the above.

Basically what is important today is for a buyer and his/her broker to make sure they dot every i and cross every t when preparing a loan package.

--------------------------------

Having been in the business of selling businesses for the past 27 years I have seen many mistakes made by Buyers when purchasing a Business.

Some of the most frequent are detailed below:

1. A Buyer does not take the time to review his personal skills, education and experience to determine what type of business will fit his capabilities and meet his financial goals. Many Buyers just look at a projected net profit and go forward without determining if they have the skills and capabilities to run and grow that business in the future.

2. A Buyer wants to see everything that is on the market before he decides what he wants. This type Buyer usually winds up getting so confused about the various businesses and their pluses and minuses -- he spends all his time looking and never buys a business, or if he does so""does it out of frustration and may select the wrong opportunity.

3. A Buyer knows it all - even before looking at a business or hearing all the facts about the particular business. Many Buyers hear the gross sales and asking price and immediately decide the Seller wants too much for the business. If the Buyer would take the time and effort to investigate he may find that there is additional recurring income included or maybe the premises lease is well below market value which will go direct to his bottom line or some other circumstance that makes it worth the asking price.

4. A Buyer that decides he can do it by himself without the aid of a professional broker usually winds up spending much more time and effort to locate what he is looking for. Working with an experienced Broker will usually save the Buyer lots of time and effort in locating the business and may even save him money in the negotiation for the purchase. A Third Party during negotiations usually keeps the emotions of Buying or Selling out of the negotiation and this allows for a smoother transaction without personality clashes. Experienced Brokers have seen many businesses of all types and can provide advice as to the business value, the necessary skills to run the business, discuss possible ways of growing the business and will assist the Buyer throughout the Buying and Escrow process.

5. A Buyer thinking he is getting a bargain by not using an Escrow to purchase a business. Escrow is necessary to insure that there is a proper contract between the parties, search for liens and encumbrances against the business, insure proper transfer of licenses and Franchise Agreements, publish Bulk Sale Notice to protect you from any claims of unsecured debts and handle disbursement of monies.

--------------------------------

1. Buyer not being truthful to the broker and/or seller which is related to some of the other reasons

2. Buyer exaggerating their financial resources

3. Buyer not understanding the difficulty in getting a loan to purchase the business (Of all of the many buyers who have told us that their father or brother or whomever would loan them the money to purchase a business, I can count on one hand how many have actually received such loans and still have several fingers left over.).

4. Buyer being concerned about the seller's employees leaving after the sale. This almost never happens especially in this economy. As long as the buyer does not do anything stupid like cutting pay or benefits, the employees are just thankful to have their job.

5. Buyer taking in a partner as the vast majority of partnerships do not last.

6. Buyer taking actions that irritate the seller like missing appointments or saying rude things to the seller a sale seldom happens if the seller does not like and trust the buyer

7. Buyer not employing professionals to help in their due diligence efforts so that they get the information that they need to make a knowledgeable, low-risk, final decision.

8. Buyer allowing an accountant or attorney to kill a good deal. Buyers are the ones who will miss out on a good source of income and building equity in a business for their family -- not the accountant or attorney.

9. Buyer attempting to circumvent the broker. This signals to the ethical seller that the buyer is not ethical and cannot be trusted.

10. Buyer walking away rather than making an offer for what they think the business is worth, even if it is a lot less than the asking price. We have sold several businesses for less than 50% of the asking price because of the seller getting desperate/super motivated. The buyer does not know the seller's hidden agenda such as a life threatening health situation, pending divorce, partnership dispute, burn-out, outstanding job opportunity, etc. A related reason follows.

11. Buyer not being creative in their offer regarding seller financing, deferred payments, buying the seller's receivables, etc. to help them with the working capital needs of the business.

12. Buyer not taking the landlord's role seriously. Landlord's do not have to accept the buyer as a tenant, lower the rent or give additional options, etc. If the buyer is rude or arrogant with the landlord guess who loses?

13. Buyer trying to change their offer price and terms after getting into escrow without a valid basis for doing so.

14. Buyer not adequately understanding the working capital and capital expenditure requirements, and the cyclicality of the business.

15. Buyer dragging the purchase process out by not completing their escrow requirements on a timely basis. The passage of time works against the transaction closing.

--------------------------------

The biggest mistake made by buyers is not seeking professional representation and guidance before closing the purchase transaction. Without an experienced broker or attorney on their side, a buyer is prone to making numerous mistakes, some of which can jeopardize the viability of the business.

Even in those transactions that involved a business escrow and SBA financing, I have seen disputes and even litigation between buyers and sellers result from the buyer and seller leaving significant terms "to be determined" after closing, or failing to address significant legal issues prior to closing. For example, buyers and sellers often agree that the seller will providing consulting services to the buyer after closing, but some buyers and sellers close escrow before agreeing to the details of such an arrangement.

Once the seller has pocketed the sales proceeds, he has little reason to negotiate such an arrangement on terms favorable to the buyer. With respect to legal issues, buyers also occasionally fail to obtain an assignment of all of the seller's rights under important contracts, including leases, prior to closing. Landlords, vendors, or customers operating under contracts with the seller may, under some circumstances, refuse to do business with the buyer, and this can be fatal to a business.