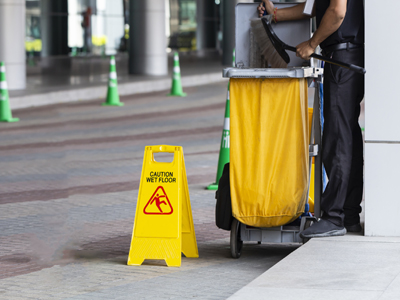 Just like a world pre 9/11, in which we didn't have to take off our shoes and belt before getting on a plane or show our ID before checking into a large office building as a visitor, many believe that COVD-19 will fundamentally change the way we engage with each other and interact with commerce. Will there be packed houses of theatres, crowded restaurants, and will we give our loved ones hugs and kisses? Of Course.

Just like those from The Greatest Generation, long after the Great Depression, would still make a point to minimize debt, maximize savings, and look for cost savings efficiency, like turning the lights off in a room where no one was in, the affects of living through COVID-19, will leave echoes in how we live our lives moving forward, how can it not?
One aspect that many customers look for in businesses today and will most likely moving forward is cleanliness. An example is in NYC, since 1904, the subways have always (baring a brief suspension after 9/11) run 24/7, but now they are closing for 4 hours in the middle of the night so they can be cleaned and disinfected.
Overnight cleaning will become more important as we rebuild our businesses and lives, and so janitorial businesses will most likely become essential.
Here are some tips for those who are interesting in buying a janitorial small business:
1. One of the most important things to ask is the amount of accounts a company has and the length of time those accounts have been serviced. A company can have a contract with an account, but typically many are based on a handshake and the quality of work that is being done to sustain that relationship. Therefore, the training period is so important, because it is imperative that the transition period from one owner to another is as smooth as possible, because if it is not, then those accounts will disappear, literally overnight. A business buyer may want to negotiate a longer training period than 14 days or 80 hours and make it a point to retain the company's employees.
2. A buyer should make sure that they are familiar with state and local health regulations (the commercial cleaning business broker or owner should be able to assist potential buyers with this info) and the business does not have inexpensive and outdated equipment. Office buildings will need more than having the carpets cleaned and waste baskets emptied, but replenishing hand sanitizer locations, cleaning partition glass windows, and it is important that an owner has the knowledge and equipment to fulfill health and safety standards. Being knowledgeable will not only help sustaining accounts, but the sales side of procuring new accounts.
3. Prices can vary between 1-3 times the annual adjusted net income, based on many factors that a business broker should be able to educate the buyer on.
The most important things to remember for a buyer is that, yes, you'll probably be doing some cleaning yourself, and gain the knowledge of appropriate equipment and supplies, because you don't want to learn the hard way that certain chemicals might stain certain tiles or marbles, etc. Knowledge and professionalism will be the most important aspects of sustaining and building your business.