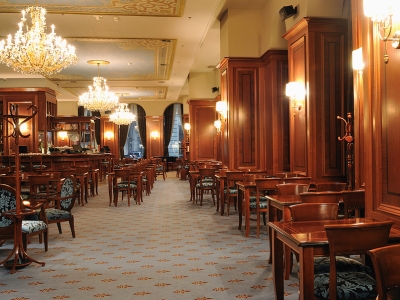 In order to buy a restaurant, savvy buyers should perform their due diligence on everything from the financial aspects of the deal to a restaurant's popularity and menu and everything in between, including the local competition. When investigating the competition, most entrepreneurs looks for competitor restaurants in the same price range, those that offer the same style of food, have similar atmospheres, or cater to a similar demographic.

All of those types of restaurants are part of the competition and need to be considered when deciding to buy a restaurant. The latest Census reports that there are approximately 62,000 restaurants in California alone, so there will always be plenty of opportunity and competition.

Don't Get Blindsided By This Competitor When You Buy A Restaurant

There are some competitors to a restaurant business that an entrepreneur might not see beforehand when they buy a restaurant. Not every competitor is another food service establishment down the road with a bright neon sign advertising the same food that you want to sell.
What would happen if, three months after you buy a restaurant, the main road in front of your facility is shut down for long term construction? Now your restaurant is inconvenient to find and get to, which will severely hurt your business. Did the previous owner know that the road work was scheduled and that is why they sold? That doesn't matter; what does matter is that a little bit of research is required to prevent a catastrophe like this from happening when you buy a restaurant.

Thankfully, you can check on this contingency before you buy a restaurant. Look up the local and state transportation agencies in the phone book or online. They will list upcoming road closings and construction online and via phone if you call. This is a vital step during due diligence when you want to buy a restaurant.

Get A Non-Compete From The Previous Owner When You Buy A Restaurant

That's right -- the seller that just sold you their business could end up being a potential competitor. Without a non-compete agreement, there is nothing stopping the previous owner from opening a new business and competing with you. Worse yet, they can entice former customers into the new restaurant and hire old staff to work in their new restaurant.

When creating a non-compete agreement, it is always best to consult with a legal representative. A non-compete agreement must be clearly written with discreet terms in order to be legally valid. Typical terms might include a restriction on the previous owner from opening a competing restaurant in the surrounding area for at least two years.

When it comes time to perform your due diligence and buy a restaurant, be careful of these 'hidden' competitors that can drain your business.

Looking to buy a restaurant business? See all restaurant businesses for sale in California - or sell a restaurant business and reach thousands of restaurant buyers. Also keep up to speed on the California restaurant market (with industry business brokers & experts) with upcoming BizBen Online Talk Shows & Webinars.

About The Author: Peter Siegel, MBA is the Founder of www.BizBen.com (established 1994 - 7000+ California businesses for sale, 200 new listings daily) and the Director of the BizBen Network (16,000 business buyers, 4,000 small business owners, 1,800 California business brokers & agents). Peter Siegel can be reached direct at 925-785-3118 to discuss getting resources for selling a restaurant, financing a restaurant purchase, or buying a California restaurant.