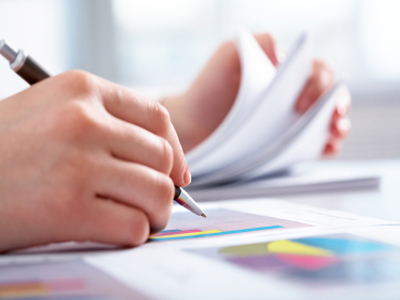 According to the Small Business Administration, a business plan is defined as: "A business plan precisely defines your business, identifies your goals and serves as your firm's resume."

Source: sba.gov

By my definition, a business plan is a living document that should serve several purposes for your business. When you are buying a small business, a business plan will assist you in obtaining business purchase financing by showing lenders, investors and other constituents how you plan to repay their investment by running a profitable company. By going through the process of writing a business plan you greatly improve the chances that your business will survive and thrive as you've take the steps to understand the company and you will have an idea of what you need to do before you take over.

Once you become the owner, your business plan should act as a blueprint for how your small business will operate and it should clearly lay out your plans for growth. It should describe your plans over the next three to five years and have goals attached to the plans. You also need to provide details on how you plan to achieve those goals. Having a good business plan and revisiting it often should be part of every company's strategic planning initiatives. It will help guide your management team in working toward the same goal.
Online Services and Templates

Now that you understand the importance of a business plan you have to figure out how to write a good one that is actually going to be beneficial to your business. I've seen many business plans throughout my time in this industry and I can tell you, not all of them are created equal. There are a lot of business plan writing services online and templates available for purchase. I wouldn't recommend hiring someone to write your business plan. They don't know your business the way you do and this plan needs to be something you are behind and vested in.

A lot of people try to use a template and plug in relevant information. Every business is different, so using a template and following it exactly probably won't give you what your business needs. You can certainly use a template as a guide but I recommend you take a closer look at your company and personalize your plan accordingly.

The Components of a Business Plan

With that said, there are several areas most business plans will address. They include:

The Executive Summary
Company Overview
Business Offerings
Marketing Plan
Strategy
Management Team
Financial Projections

Let's Get Started

Before you dive in and get started, you need to clearly define what your goals and objectives are. As I said, this should be a living document, meaning it changes as your business changes, so the plan you write today may end up looking completely different a few years down the road. The first step is to think about your company and where it is today. Are there areas that need improvement? Is there an aspect of your company that you know has growth potential? Take a critical look at your company and assess what you want and need to change, and then think about where you want the company to be five years from that point. Use the answers to these questions to start writing your plan. Now, let's dig into each section of a typical business plan and I'll give you some tips on how to create each section.

The Executive Summary

Even though the executive summary will be the first part of your finished business plan, I recommend you write it last. The executive summary is meant to be exactly what its name implies, a summary of what readers can expect to find in your plan. So, to write an accurate summary, create your entire business plan then read through the finish product. Use highlights from the finished plan to create this section.

Company Overview

The company overview should provide more detailed information about your business. Think of it similar to a business profile where you layout when the company was started and why. Don't put too much emphasis on what exactly the company does in this section, as you will cover it in greater detail in the business offerings portion of the plan.

If the company has an established mission and vision statement, you can include it here. You may want to include an organizational chart that shows how the company is managed. If you have patents, trademarks or any other items like this that are unique to your business, this would also be the place to include information about them.
Business Offerings

In this section, you should get more in depth as to why the company is in business by talking about the product or services you sell. If you sell a product, get into detail about your role in the sales cycle. Are you a manufacturer, distributor or retailer? If you offer a service, give details about the services and how they are rendered to clients. Whether you sell a product or service, this is the place to identify future growth opportunities.

Marketing Plan

Believe it or not, many business owners often overlook the marketing plan as a part of their business plan. While many companies have separate documents that discuss their marketing strategy in greater detail, your business plan should include some sort of marketing strategy. You can have the greatest products and services around but if you don't have a plan as to how you are going to let potential customers know about them, your business probably won't go far. Use this section to also do an analysis of the market and your competition.

Strategy and Implementation

This section is where you pull it all together! Marketing plans are great, vision statements are great and financial projections are great, but you have to have a clear plan as to how and when you are going to bring all these things to life. In this section you should include as much detail as you can on how you to plan to achieve your goals. If you are looking for financing, this is the section most investors will zone in on. It is also a good idea to include a timeline of when you plan to do things and projected outcomes.

Management Team

So who is going to do all this work that you've just detailed in the strategy section? Your management team. Use this section to introduce your management team and to provide information about their qualifications. If you are using your plan to obtain financing, including each team member's resume is a good idea. From an investor standpoint, when they see a qualified management team, they may feel that there is less risk of the business not succeeding so detail how each person will contribute to achieving the business's goals.

Financial Projections

This section should be the last you write prior to the executive summary. This is the section where you go through your plan and pull together an overview of everything you've stated throughout the plan and how it impacts your finances. You should include a projected P&L, a balance sheet and a cash flow statement. If you are buying an existing business you can use the financials that the current owner has provided as a starting point. Take into consideration the changes you plan to make and create projected financials accordingly. Understand that these numbers are just your projections, not actual accounting figures.

While it is a time consuming task, writing a business plan is very important and should be easy if you are knowledgeable of your business. Don't view writing a business plan as a daunting task that has to get done. Instead, think of it as creating a blueprint for your business's success and get to work!

#photo#About This Contributor: Peter Siegel, MBA is the Founder & Senior Advisor (ProBuy & ProSell Programs) at BizBen.com (established 1994, 8000+ California businesses for sale, 500 new & refreshed postings/posts daily) working with business buyers, owners/sellers, brokers, agents, investors, & advisors). Phone him at 925-785-3118 to discuss strategies regarding buying, selling, (or financing a puchase of) CA businesses.