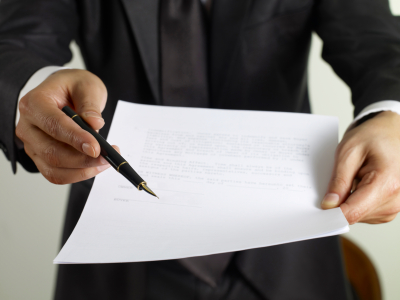 When the owner of a restaurant, retail store, janitorial service company or other small California business is ready to retire, it usually is a good idea to hire agents to sell business assets as part of a package that includes goodwill also called going business value.

Yes, the seller may be able to locate a buyer and conduct a sale without professional help, but because there are so many challenging problems associated with business transfers, it usually is smart to engage a business sales intermediary to launch the campaign and then manage a transaction.

Even though a hefty fee has to be paid for that service, it's almost always better to have the intermediary do the work.

The fee can total more than ten percent of the selling price. That seems very costly for many sellers. And they often fear they'll lose control of a deal if a third party is involved. But for at least seven reasons, most sellers should not trust themselves to handle the sale. Instead, they're smart to sign a listing with a competent business sales expert. Those seven benefits are:
1. Because they are in touch with many motivated buyers who are financially qualified, agents will have a bigger market of potential purchasers to draw from than will most business owners.

2. One of the biggest problems associated with trying to sell your own business is the time and risk involved in dealing with people who are curious about the business, but may not be financially able to buy it, or qualified to run it. Business sales agents and business brokers specialize in making sure the people introduced to your company have some interest and the ability to follow up with that interest.

3. When a seller hires agents to sell business assets, he or she will be able to benefit from the professionals knowledge of how to keep the intended sale a secret. It usually is important that employees and customers of a business don't know that it is for sale. The DYI (do it yourself) seller may have a difficult time, when responding to buyer inquiries and scheduling showings, trying to maintain confidentiality about the intended sale.

4. The business sales intermediary, as a third party, is usually in a better position to negotiate a deal between a seller and the buyer, than is one of the principals in the deal. Because of the seller's emotional involvement and lack of objective perspective, he or she may not be as effective as a skilled outside party at achieving an agreement that works for both sides.

5. One benefit of the experience brought to a deal by professional business brokers and agents is the knowledge about overcoming problems. There often are hurdles to overcome in California business sales. The seller, having little experience in deal making, will be less prepared and equipped to recognize and solve deal-killing problems than someone who has been doing this for a while, and earning a living at it.

6. Finding small business purchase financing has become more difficult in the past few years following the mortgage meltdown and the banking crisis. Unless a business owner knows lenders who cater to that market, such as financial institutions offering SBA loan programs, it's likely to be very difficult to know how to help a buyer who wants to borrow some of the cash for a down payment and/or working capital. Service provided by a professional who sells businesses or arranges for business acquisition loans may be able to save a transactions that won't work unless the buyer can arrange for funding assistance.

7. One skill of a competent business sales intermediary has to do with presenting the business in an appealing way in order to get a buyer to pay the price desired by the seller. Or at least, close to that price. Not knowing how to manage competitive bidding to increase offering prices, the seller won't be able to accomplish that objective. It's not uncommon for owners who've hired agents to sell business offerings, to get a higher price than if they'd negotiated for themselves. The difference often is enough to cover the sales commission.

California business owners sometimes think they should take on the campaign of selling their businesses as a do-it-yourself project. But because they usually don't have the skill, objectivity or experience of a capable business sales intermediary, they usually improve the chances of successfully closing a deal at a desirable price when they hire a professional to manage the process.



About This Contributor: Peter Siegel, MBA is the Founder & Senior Advisor (ProBuy & ProSell Programs) at BizBen.com (established 1994, 8000+ CA businesses for sale, 500 new & refreshed postings/posts daily) works with business buyers, owners/sellers, brokers, agents, investors, & advisors). Reach him direct at 925-785-3118 to discuss strategies regarding buying, selling, (or financing a puchase of) California businesses.
Categories: BizBen Blog Contributor, Business Broker Information, How To Sell A Business, Selling A Business
Comments Regarding This Blog Post
Some sellers will say that they don't want to list, "...but if you bring me a buyer, than I will pay your commission." I try to explain to the seller that this would be like going to court as the defendant and paying the person who is suing their lawyer fees. Why would you pay someone to negotiate against you? Many sellers may have had bad experiences with brokers in the past, so it's valuable to show them all your marketing material when you go on the listing presentation, and explain the entire process of selling a business. When I talk with a prospective seller, I will also walk them through certain difficulties that may arise, and also explain that selling a business takes time and a bit of luck.
Of the several advantages Peter discusses, one of the most important is the professional detachment that a business broker can provide. Most business owners have an emotional attachment to their business and selling the business can often be a traumatic experience. The business broker can bring an objective perspective to the process and help the seller see the business from the viewpoint of a buyer, resulting in a more realistic understanding of the financial and economic factors being considered by the buyer. Furthermore, it is critical that the business owner not "slack off;" the business must continue to thrive until the sale transaction is complete - because nothing is final until the final closing of escrow; therefore, the seller should spend as little time as possible on selling the business and as much as possible on running the business.