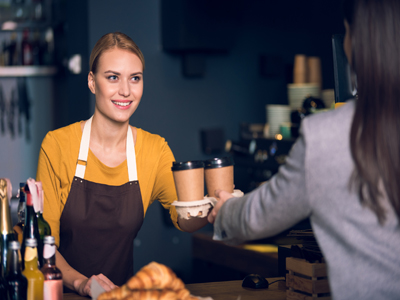 One thing is for sure, Californians love coffee, and many will find a way to get their "fix" though out the day. Many Californians opt for convenience when getting their coffee, and when they are unable to make a coffee run, they will buy from a coffee cart kiosk business. For a business owner, having a coffee cart business is great way for someone to provide quality coffee and pastries in an accessible and convenient location, without getting in over their head in the highly competitive brick and mortar retail market. Coffee kiosks are often located in shopping malls, libraries, near courthouses, at airports, and in office and hospital lobbies, among other places. These are great opportunities for someone who might be intimidated by owning a regular coffeehouse, coffee cart businesses allow them to become a business owner with less overhead, and many times, better business hours.The things to consider when purchasing a coffee cart business, include, location, price, licenses and permits, training, as well as rent and lease.
In regard to location, government offices, airports, schools, and office buildings, to name a few, make great business opportunities to provide service for people on the go who want to get their cup of coffee or treat. These types of businesses thrive in heavily trafficked areas, where it is more convenient for the consumer to buy coffee at the kiosk rather than make a more traditional coffee run. The great thing about a coffee cart business is the hours, often they may be Monday thru Friday 8am to 3pm, or some variance of that, and they can be run by only one employee or just owner operated, so no headaches with major labor expenses. I would suggest during the due diligence period to inquire about occupancy levels, especially in the lobby of an office building, because the business is so reliant on a captive audience.
A coffee cart kiosk owner may have lower sales than a traditional business, but their rent and labor costs are substantially lower, and so they end up, if run successfully, with a nice monthly income. Price could one of the most attractive qualities for a buyer when thinking about buying a coffee cart business, because often they can get into a business for less than if they were buying a more traditional coffee shop. A general rule of thumb would be that the coffee cart business was priced at about 2-3 times the yearly net income, but of course, there are other factors that may come into play, which could affect the price.
A buyer during their due diligence should make sure that the coffee cart business has the proper permits, such as food handler and sales tax. A buyer should also familiarize themselves with taxable and non-taxable items, and how that plays into reviewing sales tax receipts.
A buyer should write into the purchase contract that they want 2 weeks (80 hours) training after the close of escrow and also consider signing up for barista and specialty coffee courses, so that they can properly compete with other coffee businesses.
It's imperative that a buyer examine thoroughly the lease and again inquire about occupancy levels from the landlord. The rent of coffee cart business is substantially lower than a traditional coffee house and could range between $250 dollars on up to $600-$800 a month or more, depending on the location, and in many places, water and utilities may be included in the rent.
One of the most important aspects of owning a coffee cart business, is providing great customer service, because so times they have a captive audience, and if an owner does not provide high quality service, the consumer may get in their car and drive to a traditional coffee business, and leave the coffee cart owner's business in trouble, and once that happens, it's difficult to get them back.