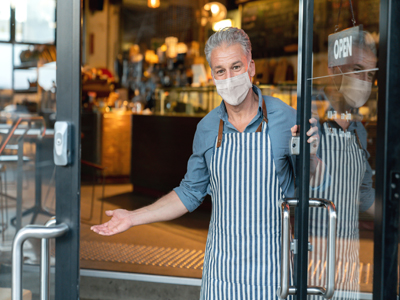 Curb appeal has always been important when selling a restaurant, which means, clean and uncluttered windows, bright lights inside, and cleanliness, among other things, but during the Covid pandemic it has never been more important. It's probably going to take some time before we experience restaurants like we did before March 2020, and so many buyers who are looking to get in the market and buy are looking at qualities in restaurants that will bridge them towards that time of 100% occupancy, tables shoulder to shoulder, and business as usual.

In my conversations with buyers, here are things they are most interested in when looking to buy a restaurant, and what a seller can do to most attract them.
1. Invest in digital pre-ordering
Until we are done with these draconian business occupancy restrictions, take-out will be the new dining in, and this will be even more important during the fall and winter months as the temperatures drop and rain comes. If patrons do decide to dine-in, many want a contactless menu, contactless ordering, and contactless payment. Many restaurants are allowing customers to scan QR codes when ordering to limit interactions with staff, and so finding an appropriate app is necessary for business owners to accomplish this. Regarding third party apps that charge high commissions, a business owner should try to redirect their customers toward 0% commission solutions, especially as it relates to ordering on-site.
2. Adhering to the most up to date safety standards with emphasis on curb appeal
Many buyers, unlike pre-pandemic, will just drive by and not go into a restaurant, as they make their initial assessment. Now more than ever is cleanliness and safety important. With curbside delivery, outside dining, many customers are deeply concerned with a restaurant following social distancing standards, employee's adherence to mask wearing and safety precautions. Many are predicting a restaurant apocalypse on the East coast during the Winter months, because of freezing temperatures, but here in California, we should be ok, if owners take necessary steps, i.e. heat lamps, etc.

In closing, it's easy for all parties involved, sellers, buyers, and brokers to feel discouraged, and easy to claim defeat, but as long as simple things like the ones listed above, and basic common sense, then things will move along.