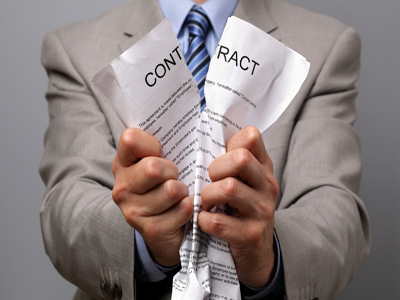 The unfortunate truth is that approximately 50 percent of all California small business for sale transactions fall through. Failed transactions can happen for a variety of reasons, i.e. the seller has poor record keeping abilities, the business location has an unattractive lease, and even a lack of motivation for the owner to get a deal done, etc. While many of those reasons have led to failed deals, the most common reason that deals fall through is because the seller has listed their initial asking price much too high.
When a business owner lists their business for a price that seems otherwise unreasonable to potential buyers, it ultimately scares off the majority of those people who were genuinely interested in buying the business. Business owners who have invested a lot of time and money into their company want to get top dollar for their hard work, even if it means valuing their business where they believe future profits would have taken them, or in the ballpark of what their business was worth before the recession.
If a business owner has their business priced too high and begins negotiations with a potential buyer who is willing to buy the company for much less than the listed price, it is important to keep an open mind and work toward understanding why people aren't willing to pay the full asking price for their business.
As a seller, you may have come to your asking price without having your business properly valued, and may need to reevaluate your stance on your price and seek professional assistance.

As a potential business buyer, it is critical to be able to support your value of the company you are interested in with hard facts. Analyzing a profit and loss income statement from the previous 3 years is an excellent place to start and is among the numerous things that will play into the process of valuing the business.

After an offer is made, both parties must work together to understand where the other side is coming from and understand that everything is negotiable. If you aren't willing to budge or negotiate, you'll never get a deal done. Both parties should develop a report with one another to show good faith and support their reasoning for prices in a way that doesn't scare the other party out of a deal. Neither party should become excitable or get offended by the other person's offer / purchase agreement, but rather strive to make a deal that benefits both sides.



About The Author: Peter Siegel, MBA is the Founder And Administrator of BizBen.com (established over 20 years!) and is a Business Purchase Financing expert (SBA and Non-SBA financing) - see BizBuyFinancing.com. He consults daily with California business buyers, owner/sellers, business brokers, and agents regarding buying and selling California small businesses. Call him today regarding advice on finding, buying, selling, financing a business purchase/getting pre-qualified (ask about the BizBen ProBuy and ProSell Programs for business buyers and owner/sellers, and brokers). He'll also give you referrals to the best resources on buying and selling businesses, brokers, etc and a FREE copy of his eBooks "How To Find And Buy A California Business Successfully" or "Valuing And Selling A California Business Successfully" with any personal consultation/service. Peter Can be reached direct at 925-785-3118 (if you get voicemail please leave some good times to reach you and a detailed message - thanks).
Categories: BizBen Blog Contributor, Business Valuation Issues, Deal And Escrow Issues, Due Diligence Issues, How To Buy A Business, How To Sell A Business, Selling A Business
Comments Regarding This Blog Post
A realistic initial valuation of a business and a SWOT analysis of its "strengths, weaknesses, opportunities, and threats" is essential to a successful business sale. Not only can sellers determine the realistic market price for the business as it now stands, but they can also learn specific practical steps to make their particular business more valuable and command a higher price. We provide a free no-obligation value analysis for any business owner who anticipates possibly selling the business sometime in the future. It's accessible on line, takes about 15 minutes to fill out, and results in a 25-26 page report. Just contact me.
Although sometimes even the best business brokers can not hold a deal together, there are somethings that we can do to improve our chances. Since the buyer may not be approved by the landlord before opening escrow, it's possible to at least inform the landlord and get a rough idea if the buyers are going to have problems by showing the landlord their credit score, asset/liabilities, and perhaps a business plan the buyer may have for the business. Most landlords will make it clear if they will write a new lease or give the new buyer an option on the existing lease, if there is no option at the time. Landlords many times have been the culprit of deals going sideways, and often times the higher the rent the current occupant is paying, the more critical they are, because suprise suprise, landlords are manly concerned with just getting their money.