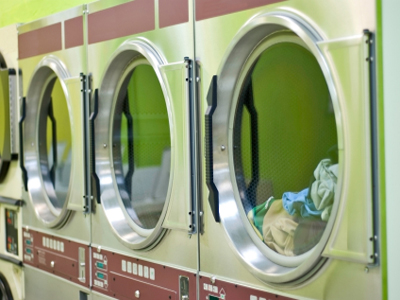 Buying a laundromat can be a great investment for an Entrepreneur. With predictable sales and cash flow, a Laundromat is an easy business to run.

It is also a business that requires little to no payroll costs and can easily be operated by an absentee owner.

Even as good as the business model is, there is always room for improvement to make more money so here are my 3 tips on increasing profitability when purchasing a laundromat.

Advertising

Doctor's offices and businesses where people sit captive for periods of time have adopted the concept of digital advertising in their waiting areas. Most of these businesses already have flat screens TVs in their waiting areas so selling advertising space on it and generating additional revenue is an easy addition. Laundromats are another place where this concept can be used.
Don't worry, you don't have to go out and sell advertising space yourself. There are a number of companies that specialize in waiting room advertising specifically. They will go out, solicit businesses to advertise, create their ads and get them up in your facility. If you decide to pursue this, be sure to know how many customers come through your doors each day as it will be important in determining the type of rates you can charge.
You could also use this advertising medium as an opportunity to do a joint promotion with another small business in your neighborhood. Since marketing can be expensive and not every owner plans well for it, working out a trade agreement for advertising space with another business could be beneficial to both you and the other owner. They can get your name out to their customers and vice versa.
Vending Machines

This is an easy one. Customers are sitting for long periods of time waiting for the laundry to be done. They may need a snack! Instead of them leaving and going down the street, have a vending machine there for them so they can buy their snacks from you. In addition to snacks, consider adding vending machines that carry cold beverages, coffee, ice cream or even refrigerated foods for a substantial snack.

Don't forget to have a vending machine that offers laundry soap and other products like fabric softeners and stain removers. It is inevitable that someone will walk in and realize they have forgotten their detergent. Rather than go home and come back, they will most likely just buy one from the vending machine out of convenience.
Wifi and Entertainment Options

Many Laundromats now offer Wifi to their customers. Some charge for it, while others give it away for free. If you want to see a direct profit from offering it you will have to charge for it, but consider this, by offering it for free, you will most likely keep customers in your facility longer.

That would give them the opportunity to buy more from your vending machines and may be seen as a value-added item that turns them in to loyal returning customers.

In the past, some Laundromats have been successful at generating profits from adding video games but with the birth of the smart phone, things like this are becoming less popular.



About This Contributor: Peter Siegel, MBA is the Founder & Senior Advisor (ProBuy & ProSell Programs) at BizBen.com (established 1994, 8000+ California businesses for sale, 500 new & refreshed postings/posts daily) working with business buyers, small business owners/sellers, business brokers, agents, investors, and advisors). Reach him direct at 925-785-3118 to discuss strategies regarding buying, selling, (or financing a puchase of) California businesses.
Categories: BizBen Blog Contributor, Buying A Business, How To Buy A Business