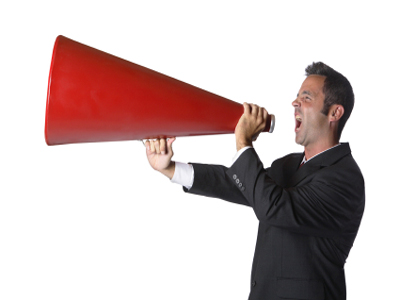 Since most people who want to acquire a California small or mid-sized business spend their time and energy responding to business for sale ads, it's no wonder that a majority never find a company they want to buy. Meanwhile, proactive business buyers "push" their requirements and qualifications to purchase, and attract brokers and agents with the "right" listing(s) and business owners ready to sell (or considering selling if the right buyer comes into the picture).

I receive calls and emails every day from prospective business buyers (of California businesses) many of whom know exactly what type of business (or have narrowed it down) and location they are seeking - however they have been searching for months or sometimes more that a year without success. I always tell these potential buyers that to be truely successful they need to "promote" their requirements just like an owner does when they sell their business - you need to get the word out (on a daily basis) confidentially to thousands of potential sellers, brokers, agents, and advisors to be successful. Buyers need to "brand' themselves and what they are looking for - to truely find the ultimate business to purchase.

Consider These FACTS:

* 80% Of California Buyers Never Find The Right Business To Buy - Thus They Give Up
* 60% Of All California Small Businesses Sold ARE NEVER ADVERTISED!
* 70% Of All California Business Brokers & Agents Don't Cooperate With Each Other
* Many Deals Completed Happen Because The Buyer "Pushed" Their Info Out Strategically

Are you looking for a certain type or location of California business to buy? One of the most effective ways to reach those with an active or possible business for sale is to "announce" your request through a Business Wanted Posting that is delivered to our Network of brokers, agents, advisors, and California business owners on a DAILY BASIS.

Your Business Wanted Request Will Be Seen:

* By Those Actively Advertising An Ongoing Business For Sale - Looking For A Buyer
* By Owners Not Advertising, But Thinking Of Selling If They "Find" The Right Buyer
* By Advisors Who Are Asked, "Where Can I Find A Serious Buyer For My Business"
* By Business Brokers & Agents Who Have Contacts With Owners Thinking Of Selling

Alway looking to build quaility content on BizBen.com, business wanted to buy postings should have certain information to not only be effective but to make potential owner / sellers and intermediaries/brokers/agents with a potential match pick up the phone or email you about your request seeking a business to purchase with a business for sale that matches their criteria!

CONTENT THAT SHOULD BE IN A BUSINESS WANTED POSTING:

1. Type Or Types Of Businesses Wanted

2. Geographic Area(s) Wanted To Purchase In

3. Dollar Amount (Or Range) Of Down Payment Available For Purchase

4. Dollar Amount (Or Range) Of Adjusted Net Income Or Return Needed To Be Considered

5. General And Work Background About Yourself (The Buyer)

6. If You Have Been Pre-Qualified For SBA Or Other Types Of Financing

7. What Kind Of Potential Deal Structures You Seek, i.e. Partnerships, Buy Outs, etc.

8. Other Nuances Like: Needs Real Estate Included, Absentee Run Situations, etc.

Bottomline give as much information as possible about your situation for success!

SUCCESSFUL EXAMPLES OF BUSINESS WANTED POSTINGS:
San Francisco Market Manager Searching To Buy A Liquor Store Or Market:
"I am looking to buy a liquor store or market in the San Francisco Bay Area. Must be located 40 minutes from Walnut Creek. Must be priced under $600K and produce an adjusted net income of over $90K. I have $140K for a down payment and have access to both SBA and Non-SBA financing. I have a credit score of 690. I also own some real estate that I am willing to secure as partial collaterial. I am actively seeking a business to buy and would like to have a deal complete within two months. I have a background in retail, have managed a market and now would like to buy a business."

Southern California Laid Off Corporate Sales Exec Seeks To Buy A Business:
"I seek to purchase a Service, Manufacturing, Or Distribution Company. I have a background in sales and marketing in the food processing/manufacturing area - so that would be an area of interest to me. I have been recently laid-off and looking to buy a business with my 401k funds. I seek a business that is in the LA or Orange County area. I live in the Long Beach Area and would like to not have to commute more that 50 minutes from my home. I have $225K for a down payment (I have access to more funds if needed) and I require an annual adjusted net income of $175K or more. The business should also be semi-absentee run and have quality managers in place."
San Diego Pizza Shop Owner Looking Expand By Buying An Additional Restaurant Or Space:

"I currently own a Pacific Beach Pizza shop and I am looking to expand in the North County Area of San Diego. I am looking for either an existing pizza restaurant or a restaurant that can be converted. I need approximately 2,500 sq. ft. I am looking for at least a 5 year lease or more. I have $95K to put down on this deal. Asset deals will also be considered since I really just want the space. The restaurant should be in a high traffic area and rent should not be more than $2.25 per sq. ft."
Sacramento Individual Looking To Buy An Absentee Run Self Serve Car Wash:

"I currently work but I am looking to buy a Self Serve Car Wash in the Sacramento County area. The coin or card car wash should be absentee run and be priced under $600K. I have $160K for a down payment and have secured SBA financing - the owner will be paid all cash at close. I am looking to make $80K per year after debt service of my loan. The rent must be reasonable and have a manager or employee in place that can help me operate the location. The business should have good books and records to prove income and I may want an "observation" period to review the daily cash intake during due diligence."
eCommerce Website Wanted By Entrepreneur In The Central Coast Area (Can Be Relocatable):

" I am looking to buy an eCommerce Site - can be located anywhere as I plan to run it here locally or out of my home. The website/business should generate $40K+ annual adjusted net income and have been in existance for at least 3 or more years. I have $75K for either the purchase price or a down payment. I have a work background in customer service management and web design. The business must have good books and records and I will require a due-diligence period of one to two weeks once I have all the business records in my pocession."

Below Is An Example Of A More Detailed Business Wanted Posting (Sample Only):

"My name is Joe Blow and I am seeking either a Service or Manufacturing businesses for sale in the South Los Angeles & North Orange County areas - I live in Long Beach and trying to find a business close to my home. I have $100,000 for a possible down payment with perhaps up to $250,000 if the right opportunity presents itself. The adjusted net income I am seeking is $70,000 or more. My monthly living expenses are currently $7,500. My work background is in operations management and sales for a large Fabricator. I have also been self-employed and owned my own company for ten years. I have a home with $300,000 equity that I am willing to use as collateral on the right business purchase. I am SBA loan pre-qualified for a business purchase. I have been searching for a business for 3 months and would like to buy a business within 4 months. I have a 710 credit score and have available a current Buyer Profile and Personal Financial Statement. Please contact me only if you have businesses for sale that match my criteria. You can reach me - Joe Blow at 213-444-1515 (mobile), 213-444-5556 (work), or 213-444-5557 (home) or via Fax 213-667-8192 or by email: joeblow@aol.com"

---------------------------------------------------------------------

ANOTHER RECENT EXAMPLE (A little wordy, but very effective and percise):

Short Profile:

"I am currently looking for a business opportunity and the right buyer broker to represent me. I am interested in the Health / Wellness category first and foremost. No Manufacturing or Retail. I am well financed and have $1M+ in assets. Purchase price: $300-$1M."
Long Profile:

"I am looking for the right business (Health/Wellness) with the right financials and located within desired areas (can be a multi-unit business.) Currently residing in Burbank, I would like the right business opportunity in the following areas; Burbank, Glendale/Montrose/La Canada-Flintridge and, Pasadena/San Marino.
I am also looking at possibly relocating to North San Diego County if a good business opportunity presents itself; key cities are Oceanside, Mesa, San Marcos, Carlsbad, Encinitas, Rancho Santa Fe. Would not like to go much farther South than Cardiff By The Sea or more East than San Marcos, but will if the opportunity is right. However, a business in the San Diego Metro area will not be entertained.

The business must have the following available:
* Detailed 3 year financial statements (IRS Tax returns 2012, 2011, 2010), including EBITDA, Net Income and Cash Flow statements
* No liens, lawsuits or other liabilities
* Officer Salary $125k+
* Purchase Price Range: $300,000-$1,000,000
* Cash flow positive
Preferred Business Attributes

* 10+ years in operation
* Healthy, loyal customer base
* Goodwill (if applicable)
* Semi or fully Absentee ownership (want to grow the business)
* Reasons for selling; retirement, relocation or health
* Excellent employees with good tenure
* Sound business plan
* Untapped revenue streams
* Non-compete agreement, with area exclusivity
* Ample training
* Favorable Lease, with renewal options
* Owner financing (favorable terms)
Of course I will sign all the necessary NDA documents as well as a personal buyer profile. As mentioned, in the short profile, I have liquid and substantial equity/assets to get a business acquisition loan if needed. The purchase will be a mix of cash down and financing.
A little more about myself, I have a plethora of marketing experience and have for the last several years worked for a small business manufacturer learning the ins and outs of running a successful business. I will be a hands on owner, but will defer to good, legacy employees. I have a tremendous work ethic and am personable. I believe customer service, marketing and good management skills are the keys to success.

---------------------------------------------------------------------

The above sample is a little wordy but it will give you some ideas of what information you should think about utilizing in your Business Wanted Posting to be effective.

I can't stress to you enough how important it is to utilize this Business Wanted approach if you are serious about finding and buying a California small to mid-sized business - it works, I assist buyers and brokers daily with Business Wanted requests - a majority of them tell me they would not have found businesses without using this strategy.

Call me if you have any questions or need more assistance placing your Wanted Posting on BizBen. Call me direct at 925-785-3118. You can also place it direct by going to Place A Business Wanted To Buy Posting. After you place your Wanted Posting on BizBen - call me and I will extend your posting period for 3 months for FREE just by mentioning this blog post!