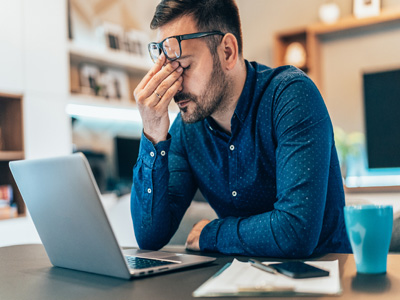 You've found the business of your dreams. You've called the broker and left a message at their office; you've called and left another message on their cell phone. You've even spoken to the administrative assistant who tells you the broker receives many calls and will undoubtedly return your call the moment they get the message. Days pass, and still your call is not returned. It's a frustrating experience but it's also an avoidable one.

Many buyers don't seem to realize brokers do get a great deal of calls for each business they list, especially popular businesses like cafes and postal franchises. It is not uncommon for one particular listing to receive 30 to 40 calls in a week and that's just one listing. Most business brokers have anywhere from 5 to 20 listings. Imagine receiving 300 phone calls in a week!

The numbers may seem daunting and you may start to feel like you have the same chance of actually speaking with a broker (or owner selling the business themselves) as you do of winning the lottery. Have hope! Here are a few guidelines, which will practically ensure that a broker will return your call each and every time.

Selling a small business is not like selling a house. When you sell your house, it isn't a problem if the neighborhood knows it's for sale. In fact, it's better for you if they do. Business owners (and brokers) face a much different situation. If too many people find out a business is for sale, word may get around to the business' employees or suppliers or even worse, their customers! This is why many business brokers request you sign a Non-Disclosure Agreement (often called an NDA) or a Confidentiality Agreement before they provide the address or even the lease information for the business of interest. The broker is doing their job to protect the seller and their business. You wouldn't want to buy your dream business only to find you've lost the majority of your customers because the sale wasn't confidential would you? Non-Disclosure Agreements are simply evidence of a good broker representing their seller properly as well as a good indication of a broker who will also protect your interests.

When you receive the broker or agent's Non-Disclosure Agreement, take a few moments to fill it out completely and honestly. The NDA is the broker's initial means of presenting you to the seller. Both the broker and the seller will be much more willing to work with (and consider an offer from) someone who has provided as much information as possible. A seller won't trust a buyer who provides the bare minimum information and a broker won't consider that person a serious buyer.

The key to getting a business broker or owner to return your call/email/text is in how you present yourself. For example, if you leave a message that sounds similar to "Hello. My name is John. I'm interested in the cafe you have for sale. I'd like to know the address and the lease terms. Please call me back at ….." you are almost guaranteed the broker will not return your call… or at least not anytime soon. Why? You weren't very specific. A broker may have 2 or 3 cafe listings/postings at once. They'll never know which one you were interested in. Not only that, the broker knows they will have to explain that they need a signed NDA from you before they can answer your questions; the broker also knows there's a good chance they are going to spend 10 minutes on the phone explaining why they need the NDA.

Now on the other hand, if a broker receives a message similar to "Hello. My name is John. I'm calling about listing number 123 that I saw on BizBen.com. Please email me your NDA so I can receive the business information and we can move on to the next step. My email address is… You can reach me at... Thank you". Notice the caller didn't ask any questions? That's because they know after they submit their NDA, they will receive information on the business. Often, those initial questions are answered when the broker sends the business profile. That message proved the caller was an educated and qualified buyer… which is exactly the kind of buyer the broker is looking for!

In short, the three most important things you can do to ensure brokers return your calls, texts, emails are:

* Always call the broker or agent on their cell phone, email them direct, and text them at the same time. Do all 3 actions if you're serious about getting information about the listing/posting! If you don't hear back from them do all 3 actions daily until you do hear from them (please let them know you saw their Posting on BizBen.com as well - thanks!)

* Be willing to sign a Non-Disclosure / Confidentiality Agreement. It's the only way to get the information you want. Also be willing to include a Buyer Profile and Personal Financial Statement as well when you return the NDA to the broker and/or business owner selling the business.

* When you do receive the NDA, fill it out in its entirety. Also complete whatever documents (Buyer Profile, Personal Financial Statement) accompany it. It is in your best interest to present yourself and your ability to purchase a business accurately.

* If you leave a message, be very clear as to what listing you are interested in by repeating the posting number and source (or at the least, the business type, price, and location) and providing a way for the broker or agent to email you an NDA.

If you follow these three basic guidelines, your unreturned call/text/email problem will be considerably minimized and you will be well on your way to finding your dream business to purchase.