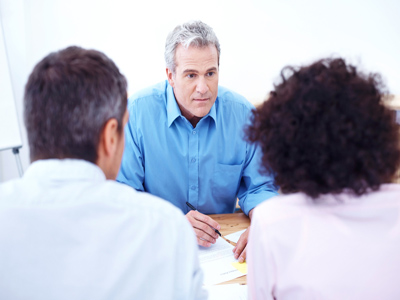 Most every Californian who owns a company wants to put it up for sale sooner or later. And if the owner doesn't have employees or family members ready to pay the money and take over, it means trying to find a buyer in the business-for-sale market. Sadly, only one-third of the hopeful sellers in this market will be successful.
The two-thirds of owners unable to connect with a buyer ready and able to pay a purchase price will ultimately have to close the business or give it away. The problem may be with the business - that it simply is not desirable. But just as frequently, the reason an owner can't make a sale is because he or she is one of the many seller types who inevitably will fail.
A review of the common kinds of sellers can help an owner determine which accurately describes him or her. And that's the clue to your chances of being able to achieve a satisfactory sale.
Those seven types are:
1. Make a Killing Mike:
Also known as "Make a Million, Mike," this individual believes the business is worth more than any sensible buyer will pay for it. There are a number of ways Mike justifies the asking price. A popular idea is that a similar business recently sold for the price Mike wants. But no two businesses are alike, and Mike doesn't understand that the "similar" business is much more profitable and in a better location. The market may not reward Mike if he should eventually lower the price to a figure close to its value. Buyers often are not interested in investigating a business that has been on the market for a long time - whatever the reason.
2. Clarence Can't Carry:
An important selling feature of most any business offering is the willingness of the seller to "carry back" part of the purchase price. Along with a cash down payment, the seller receives a promissory note usually secured by the business assets, to be paid off by the buyer over a period of time. It's reassuring for a buyer when the seller is willing to help finance, because it show the seller believes in the business and in the buyer's ability to operate it successfully. An offering that can only be purchased with all cash is almost always unappealing compared to other opportunities that come with seller financing.
3. Rita Rosy Picture:
According to Rita, her business is about to become as much in demand as this week's most popular show business celebrity. She has the best inventory in town, the most helpful and loyal employees and greater prospects for the future than any buyer can imagine. Even a business that does excel in some respects has its problems and disadvantages. Buyers know that and often don't feel secure about an opportunity that is described only in the most optimistic way. When meeting with a seller who doesn't come across as honest and credible, many buyers get a negative feeling about the opportunity - the opposite of what the seller intended.
4. Nick Not Ready:
Any prospective buyers meeting Nick will wonder how he could be trying to sell his business but not be able to produce current financial information, a list of assets to be included, or a definitive description about the premises lease that the landlord will provide to a new owner. Does the seller have something to hide? Is he really that disorganized? If so, what does that say about the condition of the business? Did he neglect to "get his stuff together" because he doesn't really believe the business is salable? These are questions that occur to buyers as they decide they aren't interested in what Nick has to offer.
5. Don't Worry Dorothy:
When Dorothy tells a prospective buyer for her business that he or she shouldn't worry, it usually results in the individual becoming very concerned. Buyers want to know what happens if the customer who accounts for half the company's income decides to do business elsewhere. They want to understand what consequences might result from the large competitor moving into the neighborhood. If the seller doesn't have answers for these types of worries the buyers decide they won't worry about those issues. That's because they'll look for another business to buy.
6. Secret Sam:
One of the things Sam likes to tell prospective buyers is how much of the company's income goes directly into his pocket without being recorded on the books. He may be proud of his skimming habit. He may think he's quite clever at fooling the taxing authorities. He might think the buyer will add the total of unreported cash to the reported income and decide the business is making enough money to justify the asking price. But he's mistaken. The buyers who investigate Sam's business soon realize he can't be trusted and move on to find out about other opportunities.
7. Realistic Ralph:
Since he is motivated to sell, Ralph wants to present his business in a way that will generate positive responses from buyers. He understands he needs to be proactive in preparing the business for sale. The asking price accurately reflects market conditions. His books are in order and ready to be investigated by qualified buyers. Ralph met with financial institutions with the help of a niche financial advisor who specializes in business purchase financing. The business has been prequalified for financing. And Ralph is willing to carry back 20% of the price with a note. His approach is a clear recipe for selling success.
Any prospective seller who sees himself or herself in the descriptions of one or more of the first six seller types should understand that the chances of selling the business may be limited simply because of these seller attitudes and behaviors. Are you similar to Mike or Rita? Sam or Dorothy? The best chances of achieving a successful sale are to assume the characteristics of Realistic Ralph. It's owner/sellers like him who account for the one-third of California business offerings that result in a sale.
#photo#
About The Author:
Peter Siegel, MBA
is the Founder and President of BizBen.com. He is a SBA SCORE Counselor, author, consultant/coach (ProBuy, ProSell Programs), and advocate on the topic of buying and selling small to mid-sized businesses in the California marketplace. Having writen three books and hundreds of publication articles he has assisted small business owners/sellers, business brokers, agents, and business buyers for over 25 years. For a FREE consultation on how to best sell or buy a California small business phone him direct at 925-785-3118.
---
Contributor:

Areas Served:
Nationwide - All Areas
Phone: 925-785-3118 Cell, 925-785-3118 Text
Peter Siegel, MBA - Founder Of BizBen.com & SBALoanAdvisors.com for over 25 years. I consult with buyers, sellers, brokers, agents in all industries. Contact me direct at 925-785-3118 (call/text) for Nationwide assistance with buying, selling, evaluating, or financing (the purchase) of a business.