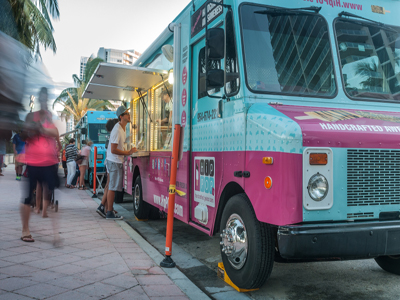 Buying a
food truck
is a fairly new option to consider if you want to get into the food service business.
For years buying a restaurant was a buyer's primary option if they wanted to get into this industry.
With food trucks growing in popularity, they are quickly becoming a viable alternative to buying a traditional brick and mortar restaurant and using it as a vehicle to get your food out to the masses.
The Food Truck Craze
While getting good food on the go is nothing new, the food truck craze really started to take shape around 2008 in Los Angeles, California. While LA is traditionally known for its swanky
restaurants
with celebrity clientele, food trucks jumped on the scene and changed the scope of dining forever. Fast forward to 2015 and food trucks are everywhere. They are popping up in cities across the country and traveling to just about any event they can to showcase their food.
Buying a Food Truck: 5 Things to Consider:
Transferring Ownership Can Be Difficult
Many successful food trucks are named after popular chefs or are an off shoot of a well-known restaurant. When you are looking at food trucks for sale keep the name in mind. If the food truck's name is apart of someone else's existing brand, they may not allow you to continue operating under the same name.
While the truck and its outfit will play a big part in the
business's value
, the company's name may be part of what has made the operation such a success. If you are just buying the truck, not the company's name AND the truck, you need to be careful not to overpay. Building a brand in the food truck industry can take a lot of time and some investment so be sure not to over pay for something that won't come with a return on your investment.
Consider A Marketing Partnership
As I just mentioned, many successful food trucks are mobile variations of traditional restaurants. If you are thinking of buying a food truck, you may also want to consider forming a marketing partnership with a restaurant if there is one that you'd like to work alongside. Taping into an existing brand could save you a lot of time and money in getting the operation up and running and turning a profit.
Specialty Items Do Well
In the food truck world, specialty items do well. If you are buying a food truck that is not attached to a brand, I would suggest considering one that specializes in a specific item. For example, there is a well-known food truck that specializes in grilled cheese. Even though a grilled cheese is such a simple food, the truck's owners took this American staple and put a spin on it creating a menu that you just can't find in every restaurant. The result is a loyal following of grilled cheese lovers tracking this food trucks' every stop!
Competition Is Increasing
When food trucks first hit the scene they were far and few in between. As time has passed and they've grown in popularity more and more
Entrepreneurs
are realizing that this industry is easier to get into and less expensive than opening a traditional restaurant or buying into other business ventures.
With that in mind, remember you are not guaranteed instant success when buying a food truck. Because competition is increasing and more trucks are coming to the market, it is important that you approach buying a food truck like you would buying a business in any other industry. You need to have a plan on how you are going to compete with the growing number of food trucks in your area and you need to have a menu that makes you stand out. I also suggest that you brush up on your social media skills. Many food trucks have found that using social media is the best way to grow their following.
Consider Adding Catering Options
Lastly, if you plan to buy a food truck, one of the best things I can suggest that you consider is adding
catering services
to your list of offerings. While traveling to office parking lots, events and other highly populated places can make for a nice business, a way to diversify your revenue stream is to add catering. Having a steady catering business will help you manage the ups and downs of the food truck industry. The food truck business is largely impacted by the weather so if you live in place that has a cold season, a rainy season or anything that prevents customers from wanting to be outside, you need to have other ways of generating revenue.
To see more info on this topic go to:
Food Truck opportunities for sale and wanted to buy
requests.
#photo#
About The Author
:
Peter Siegel, MBA
is the Founder and President of BizBen.com. He is a SBA SCORE Counselor, author, consultant/coach (ProBuy, ProSell Programs), and advocate on the topic of buying and selling small to mid-sized businesses in the California marketplace. Having writen three books and hundreds of publication articles he has assisted small business owners/sellers, business brokers, agents, and business buyers for over 25 years. For a FREE consultation on how to best sell or buy a California small business phone him direct at 925-785-3118.
---
Contributor:

Areas Served:
Nationwide - All Areas
Phone: 925-785-3118 Cell, 925-785-3118 Text
Peter Siegel, MBA - Founder Of BizBen.com & SBALoanAdvisors.com for over 25 years. I consult with buyers, sellers, brokers, agents in all industries. Contact me direct at 925-785-3118 (call/text) for Nationwide assistance with buying, selling, evaluating, or financing (the purchase) of a business.