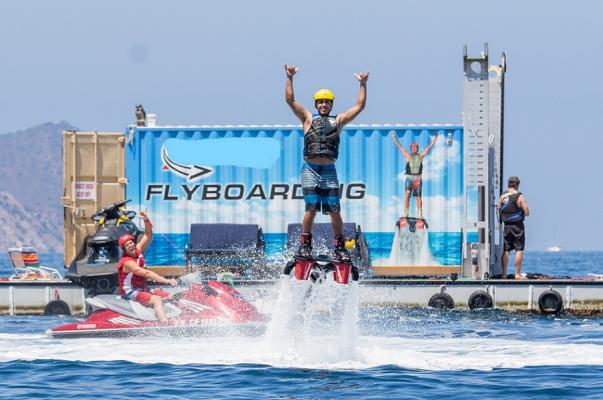 Flyboarding adventure tours is a lifestyle business for an adventurous hands-on owner. This mobile business currently operates seasonally at catalina island and also had operated in big bear lake, ca. This operation is available to ship worldwide and can be towed via water or shipped as cargo. A flyboard rider stands on a board that has boots mounted on it that are connected by a long hose to a jet ski watercraft. The flyboard receives propulsion from a jet ski to drive the flyboard into the air to perform a sport known as hydro flying. This operation is designed to fly 8 people per hour. You can charge anywhere from $129.00 to $169.00 per person. 3 jet skis and 5 flyboards are included and buyer may add a 4th jet ski to reach maximum capacity. Seller is willing to train your operators. Seller has ownership of many companies and a recent family change will not allow the time to operate this business. Some lucky buyer will benefit from this amazing price point that will allow a profitable and exciting business lifestyle.
Business may be relocated and in fact, now gets towed by sea from catalina to long beach to store for the offseason. However, the buyer may ship to any location worldwide as the equipment is essentially located at a shipping port buyer may explore the shipping cost to another location.
This business has a custom built float that you operate your activity business from. The float is 21' feet by 40' feet. Overbuilt to withstand high winds and seas. A cargo container specifically designed and engineered is mounted on the center of the float. The container was fabricated inside with a wall to divide it in half. This allows you to store helmets and life vests on one side and store oil, tools, parts etc. On the other side. There are 4 locking electric lifts mounted on a float to keep jet skis out of the water in the evening for protection. 2 dry docks to easily enter and exit the float. The initial cost of this build including permits was $500,000 and is a world class set up for this activity. Additional information and tours available to qualified buyers. Get trained, get confident & live the american entrepreneur dream out on the water.