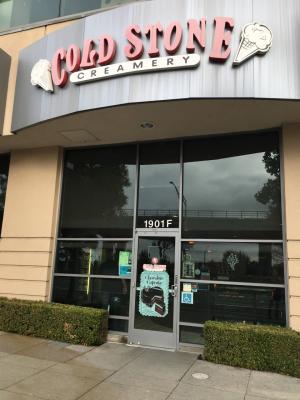 Exceptionally well performing Cold Stone Creamery store anchored by Cinema Theatre's in an affluent community at San Mateo County. If you are seeking investment either as Owner Operator or Investor or Semi-absentee Owners due to other engagements or income resources and trying to supplement your earnings this location will not disappoint you.
This is a rare opportunity to own a Cold Stone Creamery store that is adjacent to a Cinema Theatre's. Business is currently owned and operated by Semi-absentee owners since 2013 and the store has been performing very well consistently growing revenues for past 3 years. Location has generated gross revenues of $507,782 in 2018 squeezing out profit of $118,221. Besides location attractiveness the rent is quite low for this optimal store size of 1,056 square feet. Owners have good and well-trained team members at this location. The reason for owners to sell the store is because they have relocated their primary residence far away and they are not so happy for the long distance commute. New owners have upside potential at this location to capture additional revenues doing outside sales or hiring third party deliveries such as Uber Eats, door dash, grubb hub and more.
Cold Stone Creamery need no introduction it is an Ultimate Ice Cream experience that is exceptional quality and freshness that has earned national brand recognition in the market place for selling Signature Ice Cream Combinations, Sundaes, Pre-packs, Cup Cakes, Other varieties of Cakes, Cookie Sandwiches, Signature Pies, Drinks Shakes, Smoothies, Frappes', Frozen Yogurt, Sorbet & more.
Cold Stone Creamery was founded in 1988 by a couple who were Ice Cream fanatics always striving for perfecting the taste of a unique customer experience offering them a Super Premium Ice Cream that is made fresh in every store to make their own individualized creations with ultimate goal of making every customer happy when they leave the store. Corporate is dedicated and supportive to make each owner the best entrepreneur for brighter future tomorrow with the most beloved market brand out there.
Store offer nice growth opportunity due to strategic location for a predictable profits year over year. Customers enjoy ice cream before and after their movies experience. You as owners will have peace of mind for your investment in a nicer location and owning the best brand that your money can buy for better resale value when you want to exit the business. It is smart investment for you besides you will have plenty of fun and time to enjoy your life better due to easy of operation. Buyers need not have experience but must have essential financial strength to qualify with the franchisor either providing cash funds or financing through bank. Foreign buyers may look into the purchase to establish into the country and work with easy and well-established turnkey business. Add.l fees apply.
You may fill out the NDA form before calling the broker.