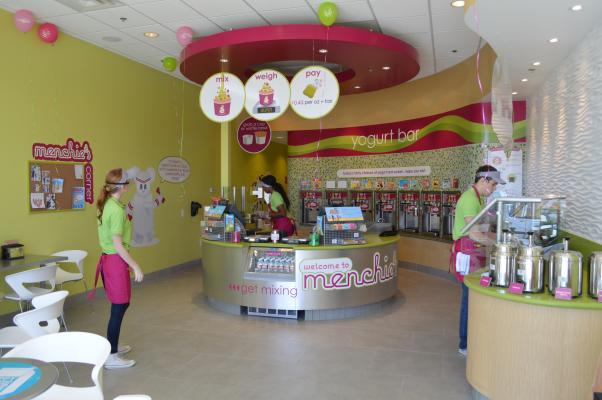 Your dream location ~ high sales volume ~ six figure profit ~ the best location in the county ~ absentee owners ~ low rent ~ long lease ~multiple anchors (2 wal marts, home depot, lowes, best buy & so many more) ~ huge development projects in the works ~ this is where you want to own your menchie's and put your investment to work for you.
For those who are not aware - menchie's frozen yogurt franchise is the top brand out there in the market. Menchie's sells frozen yogurt, frozen yogurt cakes, and now froyo shakes with delicious toppings of your choice. The freshness and taste has no match in the market - customers love the experience going to the store and become loyal repeat customers - this location rating is on cloud nine. Owners enjoying the sales volume and huge profit year over year.
It is indeed a "wow location" with water fountain and crafted patio for the privacy where kids and family enjoys the sunny days under the umbrella tables and attractive crowded evenings in a nice ambiance. The area development is in its infancy with 70 major projects under permit stage at the city office waiting to pop up and imagine the growth with already existing anchors in this huge shopping center - car dealers, wal mart, neighborhood walmart, home depot, lowe's, best buy and so many more brings in traffic flow - like you would be absolutely stunned.
High volume good profit locations comes around once in a while. If you procrastinate to fill out the nda - you would be left out of the opportunity. This location will empower you to own your store without going through the pain of finding yourself a new site, going through the pain and suffering of building yourself a location, permits, contractors delay, landlord delay and all of the above that will drain you of your passion - obviously you want a turnkey store that rings your register from day one. Think about the opportunity this store provides. Perfect for investor or owner operator. Add.'l fees.
Make your dream come true - own your menchie's before it is gone!