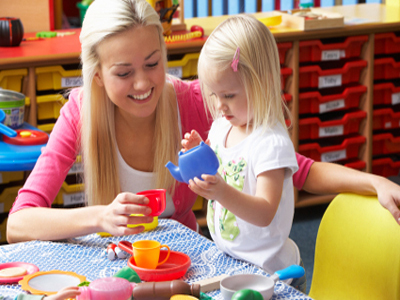 One of the oldest axioms in the world, rephrased in a hundred different ways, told in a thousand different stories, exemplified by thousands of successful individuals, is the simple statement; follow your dreams. Or, follow your heart. Or the more mundane phrase, pursue your interests.

Well, you might say, "My interest is making a decent living, getting a return on my investment, maximizing my time for the greatest profit. What does following you heart have to do with that?" A great question. And you might ask; "What does this have to do with buying a preschool?" Another good question. The answer can be very technical in it's essence if numbers are all you are looking for, but if real success means lasting success the first steps before you consider the rewards should take you back to that first axiom; Follow your dreams. Here's why.

The greatest sucesses in life, in civilization, in individuals' lives, almost always come from tremendous efforts and sacrifice. Sometimes the results don't appear right away from those sacrifices, sometimes they seem long in coming, obstacles appear out of nowhere, bad advice causes delays, nothing seems to go your way. Good fortune, or good luck just doesn't seem to be in the cards for you. But, if you are a dreamer, the immediate result won't matter, because you love the goal you are working for so much that you don't notice the sacrifice, the setbacks, the delays, the obstacles.
So my advice to someone considering buying a preschool business as an investment is really a question. Is this something you really would love doing? Using Montessori preschool education as an example, and you are a teacher, are you thrilled at the anticipation of seeing the three year olds in your classroom reading sentences, and performing arithmetic? If you are planning on being an administrator, are you looking forward to hearing how the students from your classrooms went on to become scientists, doctors, attorneys, policeman, teachers, and even one day show up in your office twenty years from now with their children to enroll them? If you are motivated by those things, and you know the goal of owning you own school requires preparation and sacrifice you can be very successful in the preschool business. If you feel you are prepared now, if you have the credentials, the finances, the good credit and the energy, you can begin now to find the opportunity of your dreams.

But if you aren't ready, begin to prepare. Even if you have the finances, if you don't have the vision of making a difference in children's lives, and the families of those children, then try to acquire the vision. Research what some of the great minds of our world have said and done in their pioneering work with early childhood education. You might be amazed to know that many of the greatest innovators of the the digital age were Montessori children. Go to Amazon and search for Maria Montessori's book, the Absorbent Mind. You might be surprised to see that Jeff Bezos offers it free of charge. There must be a reason for that.

Then, to really prepare yourself in you haven't already, enroll in Early Childhood Education courses at your local community college. Or find a reputable Montessori teacher training institute that will award the units required by the State of California as well as prepare you to be a lead teacher in a Montessori classroom. After getting your Montessori certification and a few years of experience in the classroom, prepare yourself to become a Site Supervisor by taking the necessary classes to qualify yourself. Now you are ready to become an owner/director of a Montessori preschool or any preschool.

Of course, someone who is not certified as a preschool teacher and who is not Montessori trained can become the owner of a preschool, Montessori or otherwise. This means finding a school large enough with enough cash flow to return a profit to you as an owner, without you being directly involved in the classroom or being the director of record for licensing purposes. You most likely will pay a much higher price for a school that has a great enough profit margin to reward you as an owner in absentee or even partially absent. These schools exist, but they are going to be a much larger investment than the type of school that is owner-operated.

To make the case for the owner-operator or more appropriately, the owner-director scenario, I know of several preschool owner-directors who have had enormous success, whose yearly income is consistently in the mid to high six figures or even higher. As would be imagined, these people did not start out owning schools that were in the prime areas of West Los Angeles, Glendale, Pasadena, or Orange County. They all, almost without exception, followed the pathway outlined above. Their beginnings were very humble: working for minimum wage as trainees, or even as unpaid interns. Then finding a position as a lead teacher in a successful school, then seeing an opportunity when it presented itself; an owner whose respect was earned offers the position of director, and eventually sells the business to that director. Or our director saves and saves to eventually be in the position to purchase a preschool somewhere else.

I have seen this happen many times. There really is a great need today for dedicated preschool teachers and directors. As parents awaken more and more to the benefits of early childhood education, the numbers of children that will enroll in preschools should only increase. But the secret is your dedication to your craft and not being satisfied with mediocre results.

The best teachers believe what they do makes a difference. The best directors and owners of preschools believe and make sure that their schools make a difference. Their success necessarily follows.



About This Author: Victor Kiklowicz is a licensed Realtor in California with many years of personal experience in the Montessori preschool business. He has also been involved in the successful sale of these schools. Victor is familiar with the licensing requirements and the steps involved in selling and buying a licensed preschool facility. He can be reached at 626-797-4906.
Categories: BizBen Blog Contributor, Buying A Business, How To Buy A Business