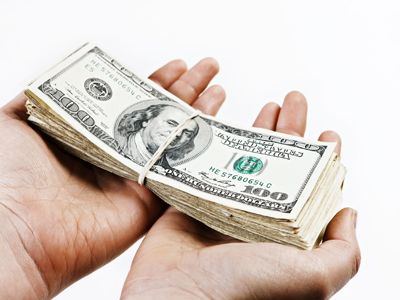 I can hear the howls already!

We business brokers LOVE talking about upfront fees - whether it's a good or bad idea to ask our clients for money to begin the marketing and sales process.

You're either a Giants fan or a Dodgers fan on this. Not many in the middle. But we adore hashing over the details and discussing what other people do.


This blog post has nothing to do with whether we business brokers, as a business model, are better off charging an upfront fee or not. Who really cares, other than the select few of us silly enough to take this on as a profession.
I want to speak to you small business owners and entrepreneurs - all of you who've been conditioned for decades to think you should avoid all of us jackals and shysters who ask for fees upfront. Those of you who think a success fee at close of escrow is the only prize we deserve. Let me try to convince you that it is in YOUR best interest to pay your broker at the outset.
Why on earth is it a good idea to pay any broker an upfront fee when the vast majority (at least here in California) don't ask for one? Just look at results. And history. Why do you think an estimated 80% of businesses DON'T SELL when they hit the market? I'd like show you why there's a connection between free and failure.
Current Upfront Fee Structures
If I were to make an educated guess, I'd say 80% of business brokers who sell Main Street and lower middle market companies in California take a 10% commission at the close of escrow and no other fees through the course of the transaction. My former franchise brokerage asks 12.5% as a success fee. Most clients see that as excessive and so do I, unless it's a larger M&A transaction. The percentage likely starts to drop once the asking price gets above $2 Million.
Many advisors worry that any form of upfront charge, monthly retainer or ongoing fee will scare off potential seller clients and drive them into the arms of competitors. This is a legitimate fear. It happens. It leaves brokers wondering what is the right strategy for their business, market and client base.
Here are a few examples of upfront fees and retainers currently in use:
* $2,000-$5,000 upfront charge, depending on seller's need and listing desirability, credited back to seller upon successful close of escrow
* 1% of the asking price charged as a monthly administrative fee spread over the life of the listing
* Hourly fee of $100-$150 per hour
* 1% of the asking price as a monthly retainer applied to a reduced success fee of 8% rather than a 10% success fee with no retainer
* $750-$5,000 per formal valuation
* Monthly retainer of $5,000 credited back 100% upon close of escrow
* $500 upfront fee for business under $1 Million asking price; $5,000 for businesses from $1M-$5M asking price; $9,500 for businesses over $5 Million asking.
* Upfront fee between $4,000 to $10,000, non-refundable, depends on quality of financials and whether audit has been performed already
* $5,000 upfront fee regardless of business size, non-refundable and not credited back
Keep in mind, there is a huge disparity in the marketing methods and personnel needs between a $200,000 restaurant and a $20 Million manufacturer.
Sensitive Subject
It's a legitimate question every seller should ask a broker- why pay an upfront fee when I can find somebody else who'll get the ball rolling for free. As a seller, aren't I giving the broker a dis-incentive to complete a deal by paying an upfront or ongoing amount?
Here's where it gets a bit touchy. The unfortunate and (mostly) unspoken reality in business sales is this - brokers cannot afford to spend all that much time, effort or money on your listing. Or any single listing.
A very high failure rate is baked into our business model. Most brokers hate to admit it publicly but they're probably pretty happy if they close 30-40% of their listings. In bad times many have an 80% failure rate or worse. That's why some of us decide to specialize in just one industry, where success rates are far better.
It's not uncommon for a single agent, often operating under a broker, to have between a dozen and two dozen active listings at a time. If that agent has 20 clients, none of whom have paid him a dime, how good is his/her marketing going to be?
Odds are high that agent will place your listing on a couple websites, produce a templated flyer or package, and keep their fingers crossed. In commercial real estate, we used to call it "hang and hope." Hang your sign on the building and hope someone leases.
Why Pay Upfront?
Here's what I tell prospective sellers who bristle at the idea of an upfront fee. When an owner selects my company to represent them, we become a team. A new partnership. We've got to work together in accomplishing a mutual goal of moving you onto a new phase in life. This process requires a ton of coordinated, cooperative effort. It won't work if a seller sits back, does little or nothing, and waits for the broker to do his dance and close a deal.
For this new partnership to have any chance of success, we've got to throw some money into it. The upfront fee gives us that chance. A broker who's been handed several thousand dollars in cash can take an astounding number of proactive steps in marketing and selling a business that an unfunded agent will consider too expensive.
Consider two dozen strategies a funded broker might employ that an unfunded agent may not:
* Commissioning a certified business valuation
* Hiring third-party valuators who can provide multiple opinions of value
* Pre-qualifying the business with multiple SBA and conventional lenders
* Helping pay for a sell-side due diligence firm
* Commissioning a financial audit by a third-party CPA
* Recasting and professional preparation of financial reports, tax returns, monthly reconciliations
* Producing a written marketing plan
* Hiring an equipment appraiser or auctioneer
* Hiring a professional inventory firm
* Hiring a professional design team
* Hiring a professional photographer
* Hiring a video production or drone photography company
* Purchasing fresh contact databases in the seller's industry
* Spending added money on premium listings which rank higher in searches
* Spending added money on more than two or three listing services
* Sending e-flyers to the seller's competitors and peripheral industry contacts
* Hiring telemarketers to canvas potential buyers
* Designing and sending direct mail pieces to thousands of targeted buyers
* Placing ads in appropriate industry trade publications
* Placing ads in local newspapers and regional magazines
* Buying ads in Facebook, Instagram, Google
* Improving reviews on Yelp and other social sites
* Improving the client's own website and marketing platforms
* Hiring a buy-side due diligence firm
The list could go on. Rest assured that a seller with no skin in the game is going to see very few perks on this list. I'm encouraging sellers to discard the notion that reputable business brokers will not ask for any upfront or ongoing fees. In my view, the opposite holds true.
The best brokers typically want to see some degree of seller buy-in. And most truly motivated sellers will see the value in making a modest commitment upfront.
The broker who gets no help in the beginning is in a far weaker position to provide the kind of cooperative assistance necessary to find the right buyer and complete the best deal. A few bucks upfront usually produce a handsome return. And a happy former business owner.
Categories: BizBen Blog Contributor, Business Broker Information, How To Sell A Business, Selling A Business
Contributor:

Areas Served:
Los Angeles County Area
Phone: 818-451-7455 Cell, 818-451-7455 Text
Brian Loring, CBB, CVB, ARM at ManageVisors (Owned by property managers): Assisting business buyers and sellers with property management and property-related service businesses: residential, commercial, associations, vacation rentals, landscaping, janitorial. A sales advisory and consulting firm.
Comments Regarding This Blog Post
I have been selling restaurants exclusively for over the past 35 years with over 500 transactions completed, and have never charged an upfront fee, nor do I need to. I am very careful and selective when I take a listing and make sure that I have a thorough understanding of all the details so that when I list the restaurant, I have a very high percentage of closed transactions, and I am not afraid to turn down a listing. I am not in it for a few thousand dollars upfront, I am in it to do a good job and close the deal and get a fair commission. I am not shy about charging a minimum vs a percentage for a closed deal. I always try to treat my clients the way I would want to be treated if I owned the restaurant. As an owner, I would not want to pay an upfront fee.
I personally prequalify every business that I list and only accept those I feel confident about selling, so up front fees are not a consideration for me. I would rather have a solid business opportunity that I can sell on a full commission basis rather than a challenging listing with upfront fees.
In the best of times, I don't ask for an upfront fee from a seller, and especially now, during one of the greatest economic downturns to small businesses, I wouldn't ask for it or even expect many owners to afford it. So many business owners can barely afford to pay rent or workers' wages, and so currently asking for an upfront fee is like trying to sell someone who is drowning a luxury, top of the line, personal flotation device.
Upfront fees for brokerage is, in some cases and likely should be a better operating method. For broker to be effective it is necessary to understand enough about the business in order to convey to potential buyers, the value of the opportunity and in many cases, guide the buyer towards additional sources of needed knowledge, risking their commission at each juncture. Research and packaging is both time consuming, taking away time from marketing listed businesses. For this reason, much of the needed work in preparation is not being done. This fee approach should also better prepare qualified businesses for market and is a source of establishing added trust. Often times, the listing turns out to be flawed, often discovered through the packaging process, leaving the time spent unrewarded. A complaint of business seekers is the lack of information and brokers knowledge available, causing many qualified buyer to walk from otherwise good opportunities. I would support upfront fees for listing brokers, assuming this type of research and packaging is actually being performed. At PBI we primarily represent buyers. Buyers require a greater understanding than is otherwise available. We consult and prepare buyers for the path ahead and for those added services we do charge fees. However, the actual brokering of a business, other than for these costs should be based on, performance = commission.
As a Business Broker of 38 years, I have yet to charge an upfront fee. Yes it is not the norm for us to do so. Maybe I'm just "Old School" but if I agree to take on the assignment of selling your business, I should put in the effort and recoup my gain of the "Success Fee" or commission. As a Business Broker sometimes we just need to say NO to an unrealistic, and/or uncooperative Seller. In my 38 years of experience there have been very few Sellers who do not want more than the business is currently worth, but if they are too far above market we should walk away and not waste our time on those Sellers. It is up to us if we agree to engage that overpriced Seller. In general we do too often. I can talk about all 2 dozen reasons listed to pay an upfront fee, but the one that bothers me most is paying for a valuation report. If I have to pay some else to do a business valuation, then I don't know my market.
Paying for part of the business broker's fees and costs upfront would solidify the relationship and make brokers more accountable to sellers. My typical commission is $20,000 on the first $100,000 (or part thereof) and 10% on the rest, because I need to cover the fixed costs of setting up a new listing. Instead, I'd rather charge an upfront fee of perhaps $5,000 to cover specific services: recast financials, valuation, preparation of a comprehensive CBR, mailings to strategic buyers, premium advertising placement on BizBen, etc. Then I would offer a straight 10% commission and a reimbursement of the $5,000.00 on closing. The broker would have more of a commitment, and the buyer would have some "skin in the game" and leverage over the broker. Another issue that should be addressed in this conversation: DRE restrictions on keeping upfront fees against a commission in escrow until used for specific services or returned to the seller if the property doesn't close....
I am not a fan of front fees for brokers and agents because especially in the business opportunity world - you're not always sure what it's gonna sell for so I'm not in favor of that. I think it makes agents work a little bit harder to get it sold but I'm sure there's many that would disagree with me.
I have never felt good about upfront fees to clients. I feel if we perform our job we will be paid well from our earned commissions.